The ESA's Euclid Mission Just Released Its First Breathtaking Images Of The Universe
Behold a new look at the dark universe.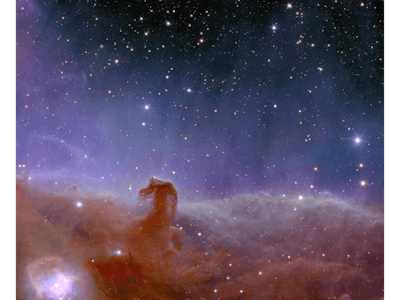 ESA/Euclid/Euclid Consortium/NASA, image processing by J.-C. Cuillandre (CEA Paris-Saclay), G. Anselmi, CC BY-SA 3.0 IGO
From one million miles away from Earth, the Euclid spacecraft has snapped its first official images.
They are stunning, as they ought to be.
In order for the European Space Agency (ESA) mission to tackle some of the biggest questions in cosmology today, Euclid's image must be vivid and precise.
Euclid's grand debut proves that the mission is finally ready to document the position and shapes of billions of galaxies.
"It's not until you fly into the depths of space and you try out your instruments for real that you figure out as to whether everything is okay," Carole Mundell, ESA's director of science, said during Tuesday's live-stream to reveal the extraordinary images.
"Today is an iconic day because I'm absolutely delighted to say that this is the point where we have reached all of our engineering milestones for the mission, and we're now able to move into the science phase. It's a really special day today," Mundell added.
First up was this enchanting image of the Perseus galaxy cluster. "The image shows 1,000 galaxies belonging to the Perseus Cluster, and more than 100,000 additional galaxies further away in the background, each containing up to hundreds of billions of stars," ESA officials wrote in an image description published Tuesday during the live reveal. They added that many of these galaxies were previously unseen.
Euclid also captured this mesmerizing view of the Horsehead Nebula, the closest stellar nursery to Earth. It's located approximately 1,375 light-years away in the constellation Orion.
Now that Euclid is officially in business, it starts its survey of billions of galaxies. Euclid will sit on a portion of the night sky slightly larger than two Full Moons for just 75 minutes, then change focus. Euclid is capturing images of extragalactic space, so it's looking at the night sky above and below the band of the Milky Way. In only six years, Euclid will strive to image more than one-third of the sky, and see as far away as 10 billion light-years, to when the universe was roughly a quarter of its current age. Piece by piece, Euclid's Visible Instrument (VIS) and its Near Infrared Spectrometer and Photometer (NISP) will reveal the universe at large and back in time.
NISP was critical for observing the spiral galaxy IC 342, dubbed the Hidden Galaxy, because it lies behind part of the Milky Way's disk. Euclid's infrared instrument gathered the wavelengths that could peer through our galaxy's dust, revealing this incredible place dominated by cool and low-mass stars.
Euclid's last debut image proves not all galaxies look the same. This irregular galaxy, called NGC 6822, is located 1.6 million light-years from Earth. It's reminiscent of galaxies much farther away. "Most galaxies in the early Universe don't look like the quintessential neat spiral but are irregular and small. They are the building blocks for bigger galaxies like our own, and we can still find some of these galaxies relatively close to us," ESA officials wrote in this image's description, published Tuesday.
Exploring big mysteries
Time and again, astronomers, over the last hundred years, kept getting clues that something unseen is having an incredible impact on how the universe evolves. Take, for instance, the stars orbiting a galaxy. Back in the 1930s and again in the 1970s, astronomers noticed that stars should be flying out of galaxies at the speed they were going around its center. But, if invisible stuff was also huddled alongside the luminous matter, it would explain how a galaxy could hold itself together. This elusive substance is known as dark matter.
In the 1990s, scientists looking at supernova data realized that the universe was expanding faster and faster. It wasn't slowing down, even 13.7 billion years after the Big Bang. On really big scales, something is acting almost like a counter to gravity, overwhelming it. This is known as dark energy. Cosmologists think it's almost 70 percent of the matter-energy density of the universe and could potentially be linked to the vacuum of space.
Once scientists can take a look at Euclid's sky survey, they'll seek to learn more about dark energy and dark matter using what's known about other phenomena. These cosmological probes include pressure waves from the dawn of the universe, called baryon acoustic oscillations, that propagated out and created regions where galaxies tend to be distributed.
Another cosmological probe is gravitational lensing, where matter, visible or not, reveals its mass because it is hefty enough to bend light from luminous objects.
If Euclid's survey can be compared to a pointillist painting, where the grand design cannot be seen until the viewer backs up far enough to see the entire canvas, then Tuesday's photos are the painter's first few dots.