CHAPEA: Inside NASA's Futuristic Mars Base Simulation Mission
Four scientists have started their yearlong mission simulating life on Mars.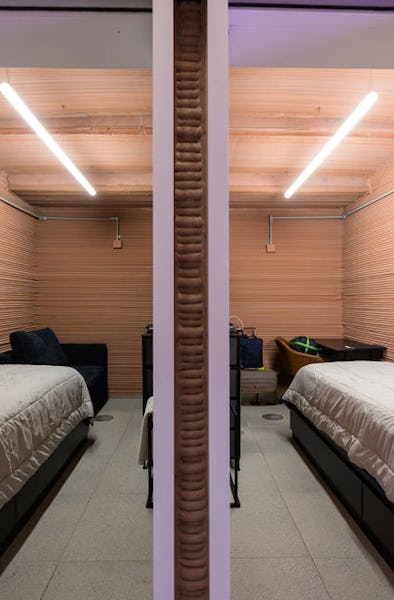 NASA/Bill Stafford
For 378 days, a NASA team will live in a 1,700-square-foot habitat without the ability to leave.
This 3D-printed dwelling is designed to replicate a futuristic Mars base. Its dimensions are akin to where astronauts might shelter from the unforgiving Martian environment on some yet-to-be-manifested mission. NASA, which is already preparing to return astronauts into deep space with Artemis II, announced the beginning of CHAPEA. This is the first mission to test the challenges of Artemis' most ambitious goal: putting humans on Mars.
On Monday, NASA broadcasted the entrance of the participants to CHAPEA, short for Crew Health and Performance Exploration Analog. The inaugural CHAPEA crew includes biomedical researcher Kelly Haston, structural engineer Ross Brockwell, emergency medicine physician Nathan Jones, and U.S. Navy microbiologist Anca Selariu.
"This ingress embodies the teamwork across the Johnson Space Center, of engineers and scientists," Judy Hayes, Chief Science Officer under the Human Health and Performance (HH&P) Directorate at NASA's Johnson Space Center, said Monday. "They designed, built, certified and readied this Martian habitat and its crew."
"We especially thank this CHAPEA crew of specialists in medicine, engineering and science, and especially their families, as they take on this personal commitment to this mission," she added.
'Scientist and test subject'
This study will explore the challenges of living and working on an inhospitable planet. NASA is concentrating its efforts this decade on planting boots once again on the Moon's surface, with an endgame of ultimately reaching Mars.
The CHAPEA mission, which has been in the works since 2019, features airlocks, trash management, and food systems that simulate life on Mars as realistically as possible.
"For myself, I feel incredibly lucky and blessed to be part of this crew and the mission. It is a career and personal highlight to be both scientist and test subject," Haston said Monday moments before entering the base.
Mars Dune Alpha, the habitat analog, has separate places for work and rest. According to NASA, it was constructed using 3D printing with materials found on Mars in order to account for future considerations. The agency may seek to keep costs down as much as it can, and if there's a way to avoid shipping large structural pieces to Mars, it will prefer to do that. A future 3D-printed base will eliminate the need to launch construction materials on multiple flights.
The four-person crew will spend their days aboard Mars Dune Alpha performing activities like simulated spacewalks, equipment failure, science experiments, crop growth, and general home maintenance. But CHAPEA is a dress rehearsal for human behavior, too.
According to NASA, "The overarching goal of the mission is to assess human health and performance in relation to Mars relevant resource limitations in isolation and confinement."
NASA selected these participants after putting out a call for applications in August 2021. Criteria included being a non-smoker, holding a master's degree in a STEM field with at least two years of work experience, and being 30 to 55 years old.
In mid-July 2024, CHAPEA's crew will exit the base and end their Mars simulation.