The behemoth emerges: NASA rolls out Artemis 1 Moon rocket (again)
A new picture of NASA's Artemis 1 rocket is serving déjà vu.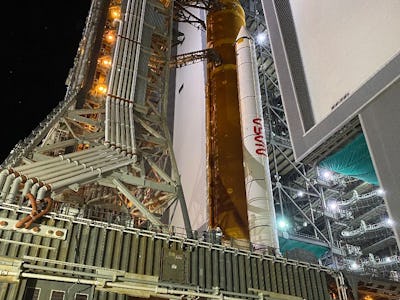 That's one big rocket.
NASA wants to launch its Artemis 1 mission before the end of the summer. When it soars, the space agency will set in motion the first major lunar program since the Apollo era. Now that the second round of hardware evaluations is complete, teams at NASA's Kennedy Space Center (KSC) in Cape Canaveral, Florida, are confident that the gargantuan 322-foot-tall Space Launch Systems (SLS) rocket topped with the Orion capsule will be able to ace a final round of pre-launch testing outside KSC's rocket garage.
Shortly after midnight, at 12:10 a.m. Eastern on Monday, the 5.75-million-lb rocket began creeping towards Launch Complex 39B aboard a robotic crawler. NASA teams tweeted this pre-dawn picture of Artemis 1 emerging from KSC's Vehicle Assembly Building, where it spent six weeks undergoing repairs after teams encountered problems during earlier testing from the launchpad. The roughly eight-hour journey wrapped up at 8:20 a.m. Eastern when Artemis 1 finally reached the pad.
Artemis 1 first left VAB on March 17, spending more than two months at the launchpad until it failed three fueling tests — known as wet dress rehearsals — out there, prompting NASA to return it to the VAB for a more in-depth inspection.
Now that Artemis 1 is back at the launchpad, NASA hopes the Statue of Liberty-sized rocket won't spend too much time decorating the space coast's horizon.
Artemis 1 will undergo at least two more wet dress rehearsals at Launch Complex 39B. If and when it passes these fueling tests, its launch date will get narrowed down and put on a calendar window. NASA is currently targeting June 19 for its newest wet dress rehearsal.
The wet dress rehearsal phase has been a difficult hurdle for Artemis 1 to complete. Hardware issues with a valve and a fuel line discovered during a wet dress rehearsal in April prompted the teams at NASA's Kennedy Space Center to return the rocket to the VAB on April 26.