The 'Ring of Fire' Solar Eclipse Looks Spectacular In These Photos
These fabulous photos of the past weekend's annular solar eclipse are (almost) as incredible as the thing itself.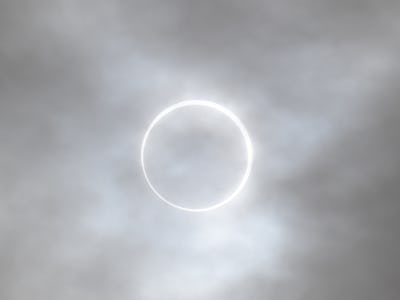 Anadolu Agency/Anadolu Agency/Getty Images
The dazzling annular solar eclipse of 2023 appeared to eager spectators across the Americas on Saturday, and (luckily for us) professional photographers had fingers poised on the shutter-release, ready to snap fantastic photos of the incredible solar event.
Earth gets a front-row seat to these dramatic eclipses because its Moon is just the right size and distance to block our host star. If you look at eclipses on other worlds like Mars, you see the uniqueness of our terrestrial experience.
This past weekend's eclipse is what astrophysicists call "annular," meaning the Moon doesn't block out the sun completely because it's a bit too far away from Earth (the Moon's distance actually varies 31,200 miles from our planet over the course of a month). But that's okay because the result of an annular solar eclipse is a stunning "ring of fire" that'd make even the dark lord Sauron envious.
The annular solar eclipse first made "landfall" in Oregon, and then its path swept southward along a curved trajectory past the equator until finally reaching eastern Brazil before terminating in the Atlantic Ocean. Luis Acosta, chief of photography for Agence France-Presse Photo in Central America, was one of many observers along the eclipse's 8,574-mile-long journey, and the photo above comes from Penonome, Panama, located about 50 miles north of the Pacific Ocean.
Eclipse hunters usually seek out areas forecasted to have clear skies so views of the stellar display are completely unimpeded, but Pulitzer-prize-winning photograph Nick Ut decided to stay put in Lakeview, Oregon and snapped some amazing photos regardless. Cloudy skies obscure the eclipse but also provide a breathtaking and moody backdrop.
One state over, Tayfun Coşkun, senior photojournalist at Anadolu Agency, captured this view of the eclipse near its peak in Winnemucca, Nevada.
Annular and total solar eclipses produce different types of rings. While an annular eclipse looks like a single band, a total eclipse — like the one that wowed the U.S. in 2017 — leaves behind a hazy cloud, which is actually the Sun's corona. In fact the only way someone can see the Sun's corona with the naked eye is during a total solar eclipse.
Independent photojournalist George Frey took this image of the annular solar eclipse from nearby Capitol Reef National Park, Utah, and the eclipse's uninterrupted ring is on full display.
However, unlike a total solar eclipse, which can be viewed safely during the scant few seconds of totality, an annular eclipse is never safe to glimpse directly — but there are a few hacks, both natural and artificial, for safe viewing. This photo, captured by fine art music photographer Erika Goldring at the Austin City Limits Music Festival in Austin, Texas, shows how crescent-shaped shadows form on the ground during eclipses.
This is created by the Pinhole Camera Effect, where light from the Sun filters through a surface (usually tree leaves) and creates small crescents that are mirrored, pint-sized replicas of the drama currently unfolding in space.
After Texas, the eclipse's shadow sailed across the Gulf of Mexico, where it eventually clipped the Yucatán peninsula. Eagle-eyed astronomers living outside the eclipse path were still able to see a partial eclipse, and this image of the Angel of Independence statue in Mexico City is a perfect example. Gerardo Vieyra, a photojournalist at NurPhoto Agency, shared on Instagram that dozens of people were safely viewing the eclipse when he took this image.
Only a few hundred miles south of Mexico City, Orlando Sierra, award-winning photographer at Agence France-Presse, took this image of a near-complete eclipse from the Astronomical Observatory of the National Autonomous University of Honduras (UNAH) in Tegucigalpa, Honduras.
This last image comes from the lens of award-winning rainforest photographer Michael Dantas located in the city of Manaus in Brazil — the final country on the eclipse's trans-American trajectory. Nestled in the Brazilian state of Amazonas, Manaus has been battling raging wildfires, and smoke from the nearby Amazon rainforest gave the eclipse an eerie filter (and a whole new meaning to the name "ring of fire").
Missed out on this incredible eclipse? Well, don't worry — another total solar eclipse arrives in North America on April 8, 2024. So get those cameras ready.