Michael Dell's Handwritten Business Card From 1984 Is a Tiny Work of Poetry
On Twitter, the computing magnate posted this relic from a simpler time.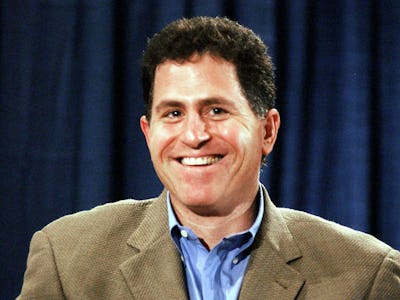 Getty
Hi, yes, nice to meet you too. Michael Dell. You can call me Mike. Yeah, hi! I heard you're into computers.
Yeah, I work at PC's Limited, here's my card. Just got them back from the printer, lemme put my name on here for you. No, not Pell — "Dell," like farmer-in-the. Yeah. Well, if you've got a sec to talk to you about the exciting possibilities for your small business. Did you know that —
Yeah. Oh, I see. Yes, I also saw the Super Bowl ad. Yes, it was very Orwellian. Well, yes, I have a lot of respect for the Macintosh. Oh, I see. Well drop by any time, as you can see we're on the north end of town, right where the highway crosses North Lamar. I'm sure we'll be here — gosh, through the end of the month, at least. Just swing by and ask for Mike.
(Update 2015: The number has been disconnected. Sad face emoji.)