The Best Gaming Speakers 2019
These are the gaming speakers to look out for.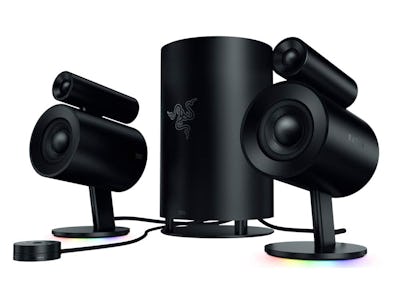 Amazon
Sound can be just as important to a video game as it's visuals. Some game mechanics rely on sound for you progress more successfully within a game, where some create a great sense of atmosphere that makes you feel like you're in the game even more. All that said, the game's sound is only going to be as good as your speaker setup, so if the audio in your games is important to you, you should consider getting a set of gaming speakers.
Below, we're going to show you some of the best gaming speakers you can get right now.
Razer makes some pretty great peripherals for gamers, and speakers are one of them. The Razer Nommo Chroma speakers are simple, effective, and come with the signature Razer Chroma RGB lighting at their bases. These sound cannons ship with 3-inch woven glass drivers for crisp sound and each speaker also has a bass port in the back.
As with most speakers like this, you can connect them via a 3.5mm jack to your computer. Lucily, Razer was nice enough to also include a USB connection option, too.
The controls available are rather simple, in that you get a volume and a bass knob on one of the speakers, and that's pretty much it. That's also pretty much all you need. When it comes to controlling the RGB lighting effects, that magic is done through Razer's software, Synapse.
If you can live without the Chroma lighting and the USB connection, Razer also offers the Nomma—sans Chroma speakers for about $50 less.
If you're looking to put a somewhat substantial amount of money into your gaming speakers, then Razer also has your back in that area, too. You can think of the Nomma Pro as the option above, on steroids, and with a downward firing subwoofer.
These THX-certified speakers mean business, and you can rest easy knowing that what you get from your Nomma Pro setup is worth the money spent. That money also provides your a wide variety of connection methods, whether its optical, 3.5mm, USB, or Bluetooth, meaning you basically have every option you could want. As far as controlling the speakers, there's a separate, LED control pod that can easily be turned to adjust volume.
For $500, you're going to have to really want these speakers. Luckily, all you have to do is look at them to want them.
Logitech basically makes any computer peripherals out there, and many of them are the best of the best. When it comes to gaming speakers, there are plenty out there that call the G560 speakers the best of the best, and for good reason.
These speakers provide solid sound across the board, and thanks to the DTS:X Ultra support, the 3D soundscape of your game will surround you. Not only that, but the two speakers also ship with RGB lighting effects and can be used with Lightsync to mimic the lighting and color effects from the game your playing. This isn't anything new, and seems very similar to what Philips Hue does with its "game zones". You can customize the four speaker lighting zones with Logitech Family Software to create the perfect gaming scene.
If you're going to between this set of speakers and something like the Nomma Pro above, price will be a big factor. This set in particular will cost you under $200, which may be enough savings to sway you from Razer's fancy RGB speakers.