These Stylish Shoes Look Like Sneakers but Take a Beating Like Work Boots
Indestructible Shoes are changing the way people think about work boots.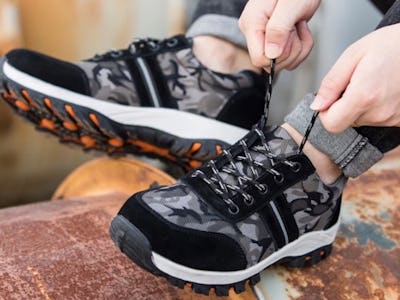 Indestructible Shoes
Americans love sneakers. We love them so much that we buy roughly $20 billion worth of them every single year. And it's not hard to understand why. Sneakers are light, comfortable, and stylish. One thing they are not, however, is durable. But now even that's starting to change thanks to Indestructible Shoes.
As you probably guessed, the folks at Indestructible Shoes specialize in making footwear that can take a serious beating. But that in itself is hardly original. There has always been footwear that can take a serious beating. They're called work boots. The problem with work boots, however, is that they're heavy and uncomfortable. Also, they look like work boots. And that's not always what you want.
What makes Indestructible Shoes unique is that they give you the protection and durability of work boots—steel toes, skid-proof grips, shock-absorption technology, anti-puncture heels, electric shock insulation, and ultra durable materials—but they look and feel like sneakers. That means you can wear them straight from the job sight to the bar, from the back yard to the family BBQ, and no one will bat an eye.
That may sound impossible, but it's not. If you wear work boots on a daily basis, or you're looking for the perfect pair of shoes for doing typical weekend work around the house, you've got to take a look at Indestructible Shoes.
One of the newest designs from Indestructible Shoes, the CamoX is the ultimate year-round all-in-one shoe. The outsole is extremely flexible and the insole features extra padding and 3D arch support, providing you with superior all-day comfort. They're also easy to slip on and off, saving time and your back. But the CamoX doesn't just offer comfort. With European steel toes, a puncture-resistant sole made from military grade kevlar, and shock-absorbing cushioning in the midsole, the CamoX also offers serious protection. And it's completely waterproof, so you can always count on your feet staying dry and comfortable.
Most people would probably be happy to pay over $200 for a shoe of this quality. However, the regular price of the CamoX is just $160, and right now you can get them for just $79. That's a deal that's simply too good to pass up.
The Ryder is very similar to the CamoX. For convenience, the it's easy to slip on and off with its no-tie lacing system. For comfort it has an extremely flexible outsole and a padded shock-absorbing insole. For safety is has European steel toes, a puncture-resistant sole made from military grade kevlar, and shock-absorbing cushioning in the midsole. However, whereas the CamoX provides protection from the elements, the Ryder features a "flymesh" upper that provides ultimate temperature control and breathability.
Though it normally retails for $160, right now you can get the Ryder Grey for just $79.
Indestructible Shoes' Camouflage Gray is part of their military inspired Battlefield Series, which is designed to provide maximum style, comfort, and protection for work, exploration, adventure, or play. Their modern style make them look like a sneaker-hiking shoe hybrid. However, underneath they've got special shock-absorption technology to minimize pains and aches after a hard day's work, an anti-puncture sole with skid-proof grips, and special insulation to protect against electrical shock.
Just like the CamoX and the Ryder Grey, the Camouflage Gray normally goes for $160, but right now is on sale for just $79.
So if you're looking for a pair of shoes that look great and can handle any job or adventure you throw at them, you need to take advantage of these deals from Indestructible Shoes.