Turn Any Pair of Shoes Into Slip-Ons With These Innovative No Tie Shoelaces
Hickies elastic laces are the shoelaces of the future.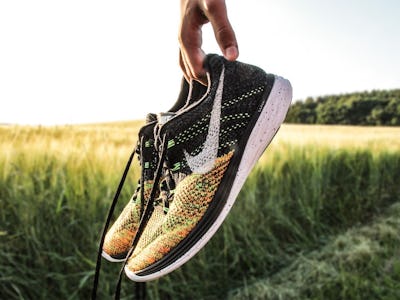 Unsplash
Having to constantly tie and re-tie your shoelaces isn't really a problem in the grand scheme of things. Not having shoes in the first place, that's a problem. However, we can all agree that dealing with shoelaces on a day-to-day basis can be a bit of a nuisance. And until recently, there were two only remedies: wear shoes that don't require laces at all, or tie the laces on your regular shoes so loosely that they slip on and off. Unfortunately, neither option provides the support of a traditional lace enclosure, and the latter solution is likely to destroy the heel of your shoes altogether. But fortunately, some very smart people are came up with an easy, cheap alternative: Hickies no tie shoelaces.
The goal of Hickies no tie shoelaces is to combine the convenience and comfort of a slip-on shoe with the support of a conventional laces. And they've definitely hit their mark.
Hickies work in a similar manner to traditional shoelaces. However, instead of a single lace made of fabric, nylon, or some other woven material, they are made from small straps of a material called thermoplastic elastomer, a highly flexible, latex-free rubber with a springy elasticity. Each individual strap gets woven through parallel eyelets of your shoe and clasped together. Because they're rubber, Hickies don't absorb moisture. And because they stretch, they provide adaptive support without ever having to tie your shoes.
Hickies no tie shoelaces work with any type of lacing system, whether it's standard eyelets in leather or fabric, loops, or even d-rings. You can also adjust the fit, making it either tighter or looser, by using one of the eight different lacing techniques outlined on their website. Or you can create a totally personalized fit by mixing and matching these techniques.
Easy to install and totally customizable, Hickies is a one-and-done lacing system. Once you get them adjusted, your shoes slip on with a perfect fit every time. Their adaptive fit and modular design makes them perfect for walking, running, jumping, hiking, pedalling—basically anything you can throw at them.
Each set of Hickies comes with 14 straps. Because they are made from flexible thermoplastic elastomer, standard adult straps are one-size-fits all and measure 116mm in length. Hickies use a proprietary closure design that has been updated for increased durability and security, and they come in 14 solid colors plus three different multicolor offerings.
A single set of Hickies sells for $17.99, which is pretty reasonable. However, you can get a pretty extreme discount if you buy in bulk.
Can't decide on a color? Want to retrofit all you shoes? The Hickies Bundle Sets offer a ton of variety and big discounts. The best values are the Essentials Set and the Rainbow set, both of which give you ten packs of Hickies for just $10 each. The Essentials Set gives you two black, two white, two grey, two charcoal, and two navy. The Rainbow set gives you one set each in black, white, grey, charcoal, navy, electric blue, mint, lime green, neon yellow, and neon pink.
Want the perfect shoe to go with the perfect lacing system? Hickies has partnered with the genius designers at Athletic Propulsion Labs, a.k.a. APL, to create the APLxHICKIES Techloom Pro sneakers.
The APLxHICKIES TLP sneakers feature a classic black silhouette with pre-installed black Hickies. The 3D stretch techloom upper has an intricate grid pattern designed to move with your feet. The proprietary Propelim midsole and outsole was designed to maximize energy generation while providing superior cushioning. The outsoles also glow in the dark, which looks cool and makes you more visible if you're running at night.
Want to spice things up a bit? The APLxHICKIES Techloom Sneakers also come with a free pack of multi-colored neon Hickies.
So if you're tired of old-fashioned shoe laces and you're ready for an alternative fit for the 21st century, get yourself some Hickies no tie shoelaces, today. You won't regret it.