These Vintage-Inspired Speakers Look as Good as They Sound
Old-school style with a new-school sound--these speakers are stylish and powerful.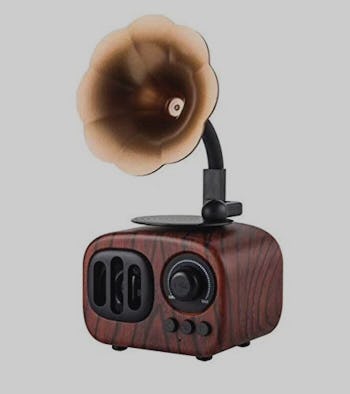 Amazon
Everything old becomes new again—and that's true even of technology. But the smarter our sound tech gets, the sleeker and more minimalistic it inevitably gets as well. While that of course has its upsides, as things shrink, so does some of that gorgeous vintage charm. Audio tech has to be some of the most deeply impacted. Of course, no one is really mourning the loss of Walkmen, but, there is something to be said for turntables, retro radios, and vintage speakers. With these treat-yo-self purchases, you can get the best of both worlds. Enjoy the sounds of today with a look of yesteryears thanks to these #ThrowbackThursday-worthy speakers.
Have turntables ever gone out of style? While there are diehard vinyl collectors, a safe bet might be that you're mildly interested in vinyl but still love the ease of your playlist. Available in a plethora of colors (including tye-dye) this baby spins and streams your favorite tunes no matter what vehicle they arrive in.
Perhaps a portable retro device is more your style? This powerful bluetooth speaker is fashioned just like an old dial radio, but sounds infinitely crisper. In four vintage colors, this nifty little device is compatible with any bluetooth projecting device and comes with a USB charge cord to make sure the party never stops.
Throw it way, way, way back with this gramophone-style speaker. This little beauty is small enough to be portable and stylish enough to make anyone do a double take. Position on a shelf of knick-knacks, guests will be searching for the music source as you stealthily stream your party playlist.