Take Control of Your Security With This All-in-One Service for Passwords and Keyless Entry for Your Computer, Bike Lock, House, Car and More
Imagine a world where you never forget your password or lose your keys again.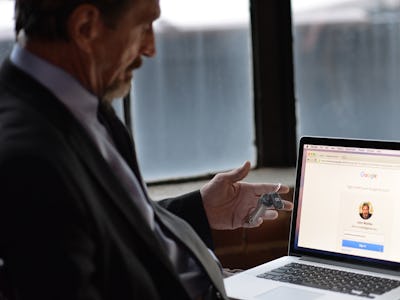 Everykey
I'm sure you have at least one person in your life chastising you for having the same password for your many online accounts. It's easy to blow off their sound advice when you don't have a viable alternative that doesn't include carrying around a very insecure little notebook of all your important passwords. And when it comes to the many keys many of us need to our bike locks, apartment buildings, front doors, parents' house, in-law's house, the friend we often pet sit for and even your car, it's so easy to lose one and get locked out—or stranded—unexpectedly. But now you don't have an excuse to get on top of your security. The future is here and it looks a lot like a universal key.
EveryKey is a Bluetooth device that answers all your security woes without any work on your part. It fully replaces the need for metal keys and password notebooks by storing your passwords and codes to other access-controlled behind a military grade security system. You access EveryKey with the easy-to-use, intuitive companion app for your smartphone or table. From there, EveryKey can generate secure passwords for your social media accounts, online banking accounts, email, and more as long as you have the EveryKey device on your person when you try to log on. Walk away to go to the bathroom or take a phone call? EveryKey automatically locks your devices the moment you walk away.
Misplace it? Your companion app has a freeze it function so the second you realize your EveryKey is gone, you can prevent anyone from accessing your precious information.
There are two ways to keep your EveryKey close to you. You can put it on your key ring or buy one of Everykey's Band Accessories in your preferred color and wear your EveryKey around your wrist like you would any activity tracker or smart watch.
Want to bring everyone in your life up to speed? Bundle your EveryKey purchase with the reduced price point of $59 per EveryKey plus free shipping when you buy 4 or more EveryKeys. So go on. Begin living a life where you know—for certain—that your online information, your bike, your laptop, your car and your house are all protected by one super powered USB-sized encryption key.