We've Found the Next Great Portable Projector That's Worth Keeping in Your Home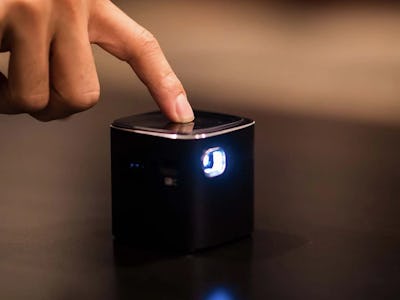 piqoprojector.com
If you're looking for a big screen experience that is portable, cost effective and easy to use, then we've had a chance to review the product for you. The Piqo Projector is one of the coolest pieces of tech we've had a chance to get our hands on. It's not cheap but given it's ease of use and it's display size, it's a great buy for those looking for a next level way to stream Avengers: Endgame.
HOW BIG IS THE PIQO PROJECTOR
They advertise as compact and they weren't lying. This projector is just 2.25in x 2.25in x 2.25in. It's small enough to carry in your bag which makes this an ideal option to bring with you while traveling. If you don't like the size of your hotel room TV then Piqo is a great option for you.
HOW DOES THE PIQO PROJECTOR WORK
The projector is bluetooth so it works similarly to how a Google Chromecast or Apple TV works. Essentially you pair it with your phone and then cast whatever you're watching through the projectors. We can say that it was very easy to set up. We were able to get it up and running in under 5 minutes.
DOES THE PIQO PROJECTOR WORK WITH iPHONE AND ANDROID?
Yes, it's compatable with both the formats. We only paired with an iPhone but it does advertise pairing with Android phones as well. We think the ease of use and it's ability to work with both types of phones is a strong selling point. It was easy to get started and experience.
WHAT WAS THE QUALITY LIKE?
The Piqo projects at 240in and 1080p. We thought the quality was excellent. It was especially good for the larger viewing experience. We did have suboptimal viewing in the daytime but that's very in line with most projectors. However, even then it was still a solid quality but the more darkness around it the better the experience.
WHATS THE PRICE AND IS IT WORTH IT?
Right now you can have the projector for $379 dollars. It's worth noting that there are a lot of bigger screened TV's that are available at a price similar to this but if you're looking for something above 50inches it's going to be hard to find anything that costs what the Piqo costs.
It does run on battery and lasts for about 5 hours. So if you're looking to do a movie marathon without a power supply to support it then it might be the wrong fit for you. However, if you're looking to stream a movie or two at night or have a way to watch your favorite shows while traveling we think this is a great fit.