These Are the Best Back to School Backpacks for Under $100
It's almost time for the kids to head back to school.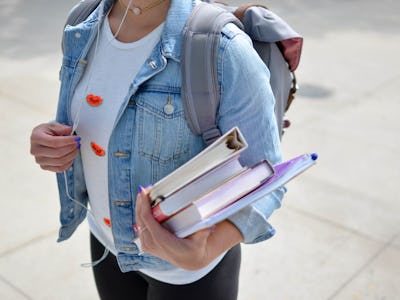 Unsplash / Element5 Digital
We're heading into the final stretch of summer. And that means that in a few weeks, kids of all ages from preschool all the way up to college will be heading back to class. For a lot of parents, that also means that it's time for back to school shopping, and that probably includes a backpack. You want something sturdy enough to hold up to endless months of punishment, but you don't want to break the bank. Thankfully, we've rounded up some affordable, yet functional and stylish backpacks for your older kids on Amazon that won't wreck your budget.
Abshoo Classical Basic Travel Backpack For School Water Resistant Bookbag
A water-resistant backpack is essential. Whether your kids are trooping to school in the rain or they accidentally leave it in a puddle on the ground, you want to ensure that you're not paying for damaged school books at the end of the year. The Abshoo backpack is a classic style that features three main compartments that will hold everything from books, pens, pencils, and calculators to laptops and tablets for the modern student. Most importantly, with 15 colors to choose from, there's an option that works for everyone.
Himawari School Waterproof Backpack 14.9" College Vintage Travel Bag
Everything old is new—including backpacks. If you have a vintage fashionista in your family, they're going to love the Himawari backpack. While the official title promotes it as a woman's bag, we think it's more of a unisex style that can also accommodate laptops or tablets. This backpack is also waterproof and features padded straps for a more comfortable fit. And best of all, there are plenty of interior and exterior pockets to tuck away that mobile phone during class. Available in 40 colors, we're sure your students will find a style that fits their personality.
JanSport Cool Student Backpack
If you prefer a classic name brand, then JanSport should be at the top of your list. The backpack brand has been known for creating sturdy gear that was originally designed for outdoor activity but is also strong enough to endure being dragged in and out of lockers. The tried and true Cool Student backpack features two main compartments for books and laptops, a third exterior roomy compartment for other essentials, and a 15-inch laptop sleeve. All JanSport backpacks come with a lifetime guarantee, so this will be money well spent.
XDesign Travel Laptop Backpack with USB Charging Port +Anti-Theft Lock
If your student is more tech-inclined, then this laptop backpack is the right move. In addition to the roomy laptop compartment that fits up to 16-inch models, there's also a built-in USB charging port (battery pack not included). The laptop compartment can accommodate computers up to 16 inches. There's also a headphone jack so you can keep cables organized and be hands-free. Plus, the neutral color offers a low profile style that's perfectly unisex while moisture-wicking material ensures your student won't be uncomfortable during prolonged wear.
Travel Backpack with USB, Water Resistant Durable College School Backpack with Anti Theft Pocket
No one wants to be the victim of theft, but it can be a real possibility. If your student is carrying around their laptop, not only do you want them to have a laptop bag, but one that can help protect them from pickpockets. The anti-theft back pocket gives you space to store valuables like your wallet without the risk of them being stolen. This travel backpack offers multiple color options as well as a USB charging port (battery not included) and two available sizes. The smaller version accommodates laptops up to 15.6 inches and the larger size fits up to 17-inch laptops. This laptop backpack is also made of water and scratch-resistant material—which makes it a smart choice for school.
SwissGear 1900 Scansmart TSA Laptop Backpack
Once again, if you prefer a well-known name brand, you can't go wrong with SwissGear. In addition to offering a massive amount of storage, this bag can pull double duty as both a school and travel backpack. For those of you with TSA Precheck, CLEAR or Global Entry, this laptop features ScanSmart technology so you don't have to empty out all of your electronics before going through security. This TSA friendly bag comes in only one size but can hold laptops up to 19 inches. But there are nine color options, giving you more choices to fit your fashion style.