The Guide to Total Online Security
It's Time to invest in That VPN Already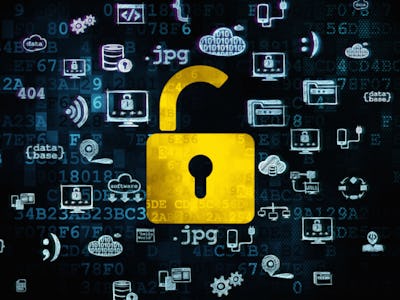 Google Images
I've said it before and I'll say it again: data privacy will be the dominating issue of the 21st century. With foreign election-rigging, large company data breaches, and identity theft all at higher threats than 10 years ago, it is safe to say that technology can introduce new dangers alongside it's myriad benefits.
So if you haven't gone in on a VPN (Virtual Private Network) to protect your identity online, wyd? To clarify, a VPN is a software that encrypts your online presence and data to protect your sensitive information from being exposed to hackers, third-party data collectors, and other viruses. It runs on-top of WiFi, and is a flexible solution to on-the-go browsing. Below, see Inverse's top picks for VPN that will give you lasting security and peace-of-mind when you're online:
With an 'Outstanding' rating from PC Mag, NordVPN has dominated the market for years now and has established itself as a go-to brand for online privacy.
All your data sent through NordVPN's private tunnels is double encrypted with a double data SSL-based 2048-bit encryption that works to hide your identity and data. It is applicable to any Internet connection,m such as public WiFi hotspots, cellular networks, and certain private WiFi locations. Naturally, there is a no-log policy and functions in 61 different countries, which enables the user to bypass select content restriction laws. The coolest feature? The VPN can detect when your identity may be compromised, and automatically logs you out and shuts down to preserve your privacy. How cool is that?
There is nothing we at Inverse love more than a package deal. With Inverse's Vault, your subscription buys you a VPN, password manager, anti-malware solution, and data backup plan. Ultimately, this bundle saves you approximately $23.67 dollars, but let's dig deeper into what you get:
The Vault package comes armed with dashline, Degoo, Panda Antivirus and NordVPN. Together, these softwares work in sync to defend your identity and data from hackers, malware, and larger-scale data breaches, ass for the low price of $8.25/mo. With Vault, you can browse securely and safely knowing your data and identity are hidden, backed-up on your private cloud, and protected from ransomware and viruses.
You've never had a VPN like this before. The Anonabox PRO Router is a mobile router that gives you advanced privacy protection
You may have subscribed to a VPN before, but no other service delivers flexibility and internet security like the Anonabox PRO Router. It comes with a Tor network that works in tandem with it's VPN that works with zero software installation. This little device lets you browse the internet securely while protecting your browsing data and history from ISP data collectivity. You are also able to share files safely with a USB drive installed in the Anonabox router, and easily connect and access the deep web safe from hackers. It runs on a 650 MHz NEC MIPS Processor, with 126 megabytes. Hurry, this deal won't last forever!