These Dyson Products Are on Sale at a Steep Discount for Amazon Prime Day
Don't miss your chance to save up to 30% on Dyson vacuums and air purifiers.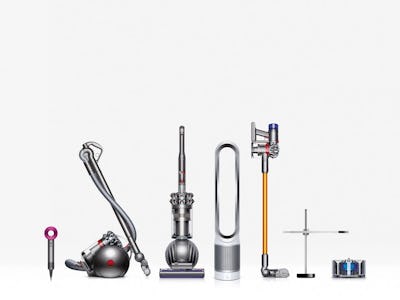 Dyson
Dyson has earned its status as the upper echelon of homeware products. Exquisitely constructed and made to last for years and years to come, Dyson products usually come with a high price tag. When you consider personal items as an investment and spending a little more on something to be saving your future self money, you can justify the cost.
But today only, you don't have to spend full price to get a great quality product, like one of Dyson's beloved vacuums, fans or air purifiers. All you have to have is an Amazon Prime membership and the full catalog of Amazon Prime Day deals are at your finger tips. So go on, splurge a little on this super adult product, you surely will not regret.
The Cordless Vacuum That Is Tough on Pet Fur
Why You Need It: Perfect for all kinds of crevices in pet-friendly homes, this cordless vacuum is rechargeable, includes a built in HEPA filter and has the strength to remove tough dirt and pet hair from carpet and hard surfaces alike. It even conveniently converts to a handheld vacuum for the hard to reach spots or the use of attachments like the Flexi Crevice tool, Mini-motorizied tool, Stubborn Dirt brush, Combination tool, Crevice tool and Direct Dive cleaner head.
The Fan That Works To Purify Your Home's Air, Even in A Large Room
Why You Need It: Homes, even those kept the cleanest, still find their way to collect lots of harmful allergens, like mold, dust and pet hair. This hybrid air purifier and fan from Dyson is Alexa-enabled for easy to use controls and senses allergens in the air while projecting clean, purified cooling air into even large rooms.
The Highly Rated Vacuum Most Aspire To Own
Why You Need It: Cordless vacuums have their place, but when you're looking for a real cleaning powerhouse that gets everything out and takes no prisoners, this is the vacuum for the job. Rated the strongest suction of any comparable vacuum cleaner, this vacuum is capable of deep cleaning of all surfaces and can clean under furniture like a dream.
The All-in-One Space Heater, Fan and Air Purifier
Why We Picked It: My bedroom is in a poorly insulated addition to a 200-year-old row home that has buildings on all sides except for the addition. In short, our bedroom gets really really cold in the winter and really really hot in the summer because there aren't building on either side to help regulate the temperature. This all-in-one device is a dream for people who live in similar situations because you don't have to switch it out. It works year round in all conditions and can operate as a fan or a space heater while still purifying the air in your home.