Amazon Prime Day 2019: Best Tablet Deals, Headphones, and "On-the-Go" Tech
From headphones to tablets, we've got you covered.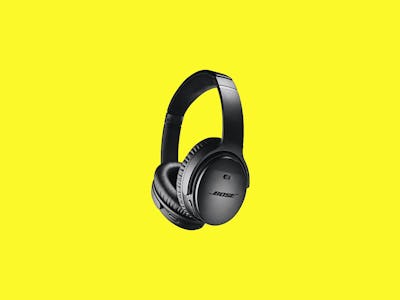 Inverse
E-commerce holidays are forever proliferating. Black Friday may still be the largest, affecting retailers all over the country. But few besides it come close to the scale and reach of one of the biggest retail days of them all, Amazon Prime Day.
Amazon's huge annual two day sale will take place on July 15 and 16 this year, bringing with it a slew of deals that can be a bit overwhelming if you don't know what to look for. That's why we're here though, to sort through it so you don't have to.
As a freelance journalist, I often work, travel, and sometimes survive out of my book bag. So you better believe I am deeply informed about the best charging blocks, cords, laptops, headphones, and everything else I may need tackle a bit of work wherever I may be, whether that be a coffee shop or on vacation. So with that in mind, I assembled all of the best on-the-go gear that looks like it will be getting markdowns come Monday.
As usual, Amazon will be updating its deals on a rolling basis throughout the day. Amazon will also continue offering Lightening Deals this year, brief deals that may sell out quickly. If there's an item in particular you know you need, downloading Amazon's app will let you set Deal Alerts to track them.
Prime Day 2019: Best Headphone Deals
Amazon says you will be able to save up to 40% on headphones from top brands, including, possibly, Apple products like Beats and AirPods.
While Apple products aren't usually marked down, there are some on sale now, and it's be widely reported that you can expect to see more moderate discounts on Apple products over Prime Day this year. s
Some Apple products are on sale already.
Beats Solo3 Wireless headphones
The Beats Solo3 wireless headphones are $100 off their usual price of just under $300, so about 30 percent off. These headphones not only provide for a good listening experience with clarity and balance, but they also allow you to control music, use Siri, and take calls, all wirelessly. The cushioned ear pads are great at keeping outside sounds out, though they do tend to get hot in the summer. These headphones are also foldable, which lets you customize the fit as well as make them less bulky when you toss them in your bag. They also get about 40 hours of battery life off a full charge. These are the headphones I use every day and they haven't let me down yet.
These noise-canceling headphones are currently about $120 off from their standard price, making them $230 instead of $350. These wireless headphones feature NoiseGuard, tech which lets you customize how noise canceling they are. The app to control Noise Guard — CapTune (for both iOS and Android) — lets you customize audio equalization as well as engage or disengage the automatic pause feature, which automatically pauses your music when you take your headphones off. These headphones have roughly 30 hours of battery life.
If you're not a fan of overhead headphones, then the Backbeat Fit 3100 is an option for you. Now only $100, down $50 from their normal price, these are technically for exercise but in the summer — who cares? The ear-loops are flexible and soft, while the IP57-rated waterproof and sweatproof design lets them function in spite of sweat or rain. Unlike those noise cancelers, and sometimes this can be a good thing depending on where you live and what you're doing, their Always Aware technology lets you hear your surroundings while listening to music. While the battery life is only 5 hours, they include a charging case that holds an additional 10 hours of charge.
These headphones are another option for buds fans. And they are already $100 off from their regular price of $200. Designed to withstand sweat and water due to their exercise-focused marketing, they're also quite lightweight, while offering dual-driver acoustics for a holistic listening experience. With in ear hooks and a number of headphone rubber tips of different sizes, these won't fall out of your ears like other earbuds. These headphones have 12 hours of battery life, and also give you the ability to adjust volume, take calls via the built in mic, or activate Siri.
If you're strapped for cash, the AKG K92 might appeal to you. You can get them for just around $50, down from their usual price of $80. With headphones. When headphones, it's quite often the case that you get what you pay for, more so than in other industries. But these headphone's sound quality outpaces their price, even if they aren't wireless. They offer a very balanced audio experience, and are used in some professional studios due to the closed-back design that maximizes isolation. That being said, the earpads are huge, and don't have great ventilation, so if you don't want to look like you're wearing earmuffs (albeit ones that are cheap but sound good) than these may not be the ones for you.
Prime Day 2019: Best Phone Case Deals
Starting Prime Day, Amazon says that you'll be able to save an additional 30% on select phone cases and accessories and, wouldn't you know it, some of the best ones are already marked down.
Otterbox is one of the best makers of phone cases out there, and while this model isn't necessarily fully waterproof and shatterproof, it's unlikely you needed that anyway unless you work in construction. The Otterbox Commuter case is only $25 as it's $15 off, thanks to Prime Day. The polycarbonate shell is slimmer than a typical Otterbox phone case, so it can slide in and out of your pocket easier and won't look as bulky as other Otterbox cases.
Speck Presidio Grip Cell Phone Case
This case is a bit narrow, as it's designed for the Samsung Galaxy Note 8, but it's also marked down from $44 to $4, making it an absolute steal. Other Speck cases are also discounted, so you'll want to check those out too. Speck cases are dropped from a height of 10 feet multiple times to ensure they meet Speck's quality standards. The raised bezel guards around the edges of the screen stop the screen from hitting the ground if you drop it flat on its face. For transparency's sake, this is the case I use for my phone, and I had to pay way more than $4 for it, and it's lasted me over 18 months with no damage.
ALLEASA 5000mAh Protective Charger Case for IPhone XR
If you're not just looking for protection, but also battery life, this case is supposed to be $17 off come Prime Day, bringing it down to $16.49. This rechargeable battery case provides 150% extra battery life, allowing your phone to charge anytime and anywhere. You can also transfer data to your iPhone via your Macbook, PC or laptop without removing the case, a perk for those of us who have had to remove cases to plug cords in.
Prime Day 2019: Best Tablet Deals
Amazon says you'll get 30% off of its Fire HD 10 Tablet and it looks like the iPad will be discounted as well, as it is already marked down. Various outlets are reporting that this may stay the case over Prime Day as well.
This iPad is $80 off for Prime Day, bringing it in at $249. Touted as one of the more affordable iPads in terms of price and functionality, this is both a deal and a handy thing to take a long with you instead of a laptop sometimes. It's no iPad Pro, but it has Apple Pencil compatibility and an A10 chipset. While you have to buy the pencil separately (thanks, Apple), the price range and functionality compared to other tablets on the market make it one of the leaders in the game.
Less so for work and more for pleasure (but who doesn't need some of that now and then), the Fire HD 10 Tablet will only be $100 on Prime Day, $50 off its full price. While the reviews on this tablet are a bit mixed, it's good at what it does, which is stream music, television, and send messages as well as make calls. You can also read books on it or play games. So if you bring your laptop along for the day, but want an affordable, handheld alternative, this may be a good pick up for Prime Day. Alternatively, if you don't want to bring your expensive laptop onto the beach, just bring this tablet along.
These are just some of the many deals that will be at your finger tips on during Amazon Prime Day, but if you're as mobile as I am, whether it come to work or pleasure, this is a good place to start assembling a great go bag.