This Schwinn Is a Prime Day Launch and We Want to Spend the Summer on It
So you can bike leisurely without first spending months in training.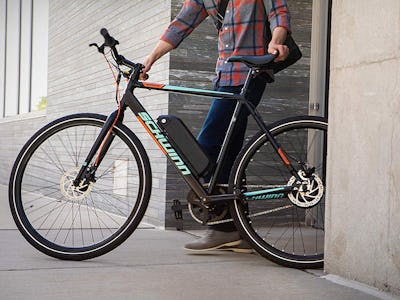 Amazon
If you live in a city—or have at any point tuned into the climate change discussion—chances are at some point in the last few years, you've looked back on your childhood biking experiences and thought it might be an apt time for a reprisal. I've been there. Every time I pay another $20 for a not-that-far Uber ride, I think to myself, what if I had a bike?
And then when I'm in a car following an inexperienced biker, riding too slow and swerving uncomfortably directly in front of a ton of metal and machinery, I realize that I'm not in any position to purchase a bike and ride it anywhere without gridlocking an entire city. I've brought up these feelings to friends and they share similar concerns that biking would be nice, but not necessarily efficient or safe for them.
Launching just in time for Amazon Prime Day, that's exactly where the Schwinn Monroe Single-Speed Electric Bike comes in. Designed specifically for casual bike riders who aren't in the practice of biking often, this single electric bike is easy to use and takes all the trials and tribulations out of enjoying a leisurely bike ride.
The medium size is perfect for folks shorter than 5 foot 10 inches while the small size works well for people between 5 foot 5 inches and 5 foot 8 inches. If you're tall, the large option is ideal for those between 5 foot 11 inches and 6 foot 3 inches. All bike sizes feautre specific 35 millimeter tires with Rhino skin puncture protection so you don't have to actively worry about deflating your tires on even or unpredictable roads.
This motorized bike includes a single speed drivetrain, made to be super easy to use. You can customize your ride experience with the thumb pad controller and easy-to-read LED display and when it's time to stop, Tektro mechanical disc brakes with motor cutoff levers will keep you from lurching forward at a hard brake or struggling to stop in any and all conditions.
Is that not enough? Imagine yourself enjoying the nice weather—and getting to your destination in a fraction of the time public transportation or ride shares might offer—with the wind in your hair and the sun on your face, and you're not even out of breath from intense pedaling. If that's enough to get you on a bike, I don't know what is.