Ellen Greytak Is Using Old DNA to Make Sketches That Help Solve Cold Cases
How a project beat "heavy skepticism" to help close cases.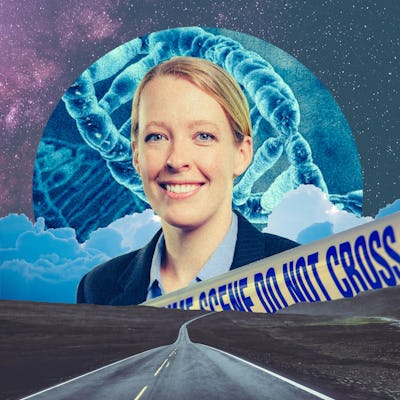 Natsha Chomko, aka POST-WOOK, for Inverse
On April 15, 1992, Lisa Ziegert, a 24-year-old middle school teacher's aide, was working her side job at a gift shop in Agawam, Massachusetts. Sometime that evening she went missing.
The next morning, police found her wallet and keys inside the unlocked shop where the lights were still on. Ziegert's car was still in the parking lot. Four days later, on Easter Sunday, her dead body was found in a wooded area. An autopsy determined Ziegert had been raped and stabbed.
For 25 years, the case went unsolved. Then, in 2017, a composite sketch of the suspect, created from crime scene DNA, led investigators to Gary Schara. When police arrested Schara, he confessed to the crime.
"This was someone who had been in their case file, but there wasn't enough strong evidence to say we should look at him first instead of these other 100 or 200 people," says Ellen Greytak, director of bioinformatics at Parabon, the Virginia-based biotechnology firm that worked with investigators to crack the case. (The company also keeps updated list of cases it has helped solve with DNA-based composite sketches.)
Greytak, 36, is one of the scientists at the forefront of developing innovative forensic tools used in modern criminal investigation. In the Ziegert case, Parabon used a process called DNA phenotyping to predict the description of the suspect.
The phenotyping process doesn't produce a picture of a person, per se, but rather a composite that allows the scientists to predict their appearance. After analyzing the crime scene DNA in the Ziegert case, Greytak's team was able to predict for investigators certain traits they never before knew about their suspect — including his eye color, hair color, skin tone, and freckling.
"The phenotyping allowed them to say [Schara] is a higher priority because he strongly matches the description," she tells Inverse.
Before joining Parabon in 2012, Greytak got her Ph.D. at Harvard in evolutionary genetics. After Harvard, she moved down to Baltimore and did a post-doctoral fellowship at the Institute for Genome Sciences at the University of Maryland. She was focused on expanding her work beyond just researching evolutionary biology, "where the most complicated analysis I was doing was in Excel," to developing the programming skills where she could work with biological data on a larger scale.
"It's a big transition, from just using tools that other people have developed to, 'I have this question and something doesn't exist to do that, can I create that? Can I write something that will do this analysis for me?'" Greytak says.
See also: "New DNA Techniques Will Keep Cases From Going Cold," by Ellen Greytak
While Greytak was finishing up her fellowship, Parabon was bidding on a Department of Defense contract for funding to research how to predict someone's appearance from crime scene DNA. Parabon won the bid but needed a biologist to lead the research. Greytak got the job.
During her first couple years, Greytak said it was "truly a research project." Initially, her team didn't know what traits they would be able to predict. Then, there was the complications of working with forensic samples. For research, Greytak said she had "nice, pristine DNA samples." But when you deal with DNA recovered from a crime scene, it's usually just a little bit of blood, or tissue, or semen. And in cold cases, you might be talking about samples that have been sitting on a shelf for like 50 years.
Early on, Greytak said her team was met with "heavy skepticism" from law enforcement. For each potential client, Parabon had to do blind evaluations before the agencies would agree to work with them. Police departments would send them DNA samples from people whose identities they knew, and the scientists would have to come back with descriptions they believed matched the subjects.
"In all those cases, they did eventually decide to go forward and work with us," Greytak said. "But it was, like, every time we had to prove that it worked."
It was late 2014 when Greytak and Parabon's DNA phenotyping technology started to show real results, helping law enforcement solve cases. Since then, it has been used to help solve dozens of cases around the country.
Four years later, the firm's work would be at the center of the most talked about and debated DNA analysis work in the field of criminal investigation.
In April 2018, Joseph James DeAngelo was arrested and charged with eight counts of first-degree murder in the notorious Golden State Killer case. Investigators announced that they had been led to DeAngelo after submitting crime scene DNA to GEDmatch, a public genealogy database.
Greytak and Parabon didn't work on the Golden State Killer case. But at the time, her team was also exploring how they could expand their work to incorporate genealogy.
Before the Golden State Killer case, the only genetic genealogy work that Parabon was doing was on unidentified remains. They weren't sure how people would respond to using genealogy to help track down perpetrators.
"We were worried that people would panic and basically shut down databases, which did happen," Greytak said. "Some other public databases did shut down in the wake of the Golden State Killer."
However, she says she was "astounded" to see that most of the responses to the work done on the Golden State Killer case was positive.
After that case was cracked, Parabon decided to expand its services and hired CeCe Moore, a leading genetic genealogist, to run its genetic genealogy team. Greytak called it "a very logical partnership." 
"CeCe was bringing in this incredible new expertise that we didn't have, and we brought the law enforcement connections and the DNA background, the genetics expertise to make it possible to do her work on these forensic samples," she said.
Along with the revelations in the Golden State Killer case came considerable skepticism about this new process, where police were using genealogy sites to do their casework. And those critics were raising questions about whether investigators were violating the privacy of users of these genealogy services.
In response to these questions about privacy, Greytak points out that in the cases on which Parabon works, it is only sending DNA samples to GEDmatch, which, unlike some other well-known genealogy sites, like Ancestry.com or 23andMe, is a public database. She adds that post-Golden State Killer arrest, GEDmatch told its users they could set their information to private if they didn't want law enforcement to be able to make these comparisons.
"You have control over whether or not your data is involved," Greytak said. "And I think that's very important."
In June, Greytak and her team will be closely watching the case of William Talbott, who is charged in Washington state with the double-murder of a couple more than 30 years ago. It is the first case involving DNA evidence and genetic genealogy set to go to trial. Thus far, in all other similar cases that Parabon has worked on, the person has plead guilty. In the Talbott investigation, the case was cracked open after Moore was able to figure out that Talbott's parents lived near the crime scene using genetic genealogy. "We're very interested to see how this information is going to be challenged [in court]," Greytak said, adding that she believes they're on "very solid footing."
As more crimes are solved, and Parabon's profile continues to rise, Greytak and her team have become more inundated with casework. But cracking cold cases is not the only application of her work for which she sees potential. Her team is also working on various other projects, like more advanced DNA analysis to identify remains for unidentified soldiers dating back to World War II. For that project, Greytak said, her team has to "start from scratch."
"In the normal analysis that we do, we're getting around 800,000 genetic markers, and that's why we can do so much; we have so much data," Greytak said. "With these really difficult samples, we might be lucky if we can get 5,000."
She is also broadening her work at Parabon to areas that have nothing to do with forensics. For example, she's in the preliminary stages of a project where they're trying to adapt the analysis methods that her team developed to predict eye color, face shape, and other traits, and use it to predict other things.
"We're working on figuring out how we can give someone an accurate prediction of their probability of getting Alzheimer's disease at different ages," Greytak said. "A test someone could take at age 45 that says you have a good chance of having Alzheimer's at age 70, so you should plan around that." For that project, Parabon has funding from the National Institutes of Health.
"The goal is to let people know early on before any nerve degeneration happens that they might be at risk," Greytak said.
I ask Greytak if she thinks they will ever put an end to the concept of the cold case. She responds enthusiastically, "That would be incredible."
However, she is not naive to the fact that, despite the advances people like her are making in modern criminal investigation, there are still cases that can't be solved even with these advanced techniques.
"Not every case is going to be solved; we certainly hope that we can make a dent in the number of cold cases that exist — and also reduce the rate at which new cold cases are added to that list."
Ellen Greytak is the director of bioinformatics at Parabon NanoLabs. She is an expert in using comparative genomics to study complex traits, which can be used to identify suspects in cold cases. Greytak is a member of the Inverse Future 50.