This Sleek Over-the-Air HD Antenna Is What Would Happen if Rabbit Ears Looked Good
Razor-thin design, 30-mile range, 4K ready... it's awesome.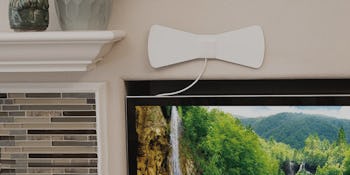 Inverse
The Details:
Reliable over-the-air TV signal
Easily wall- or window-mountable
Why You Want It: It's easy to assume all traditional TV antennas are bulky and never provide a crisp, reliable signal, but this ANTOP is the exception. The AT-105 is a modern, sleek over-the-air TV antenna that captures HD and 4K content from major channels like CBC and NBC—no charge whatsoever.
The Deal: This gizmo is usually $34.99, which is a great deal in itself, but right now The Inverse Shop offers a 51% discount—that's just $16.99 for unlimited access to crisp and reliable over-the-air TV.