The Best Flashlights on the Market Are Now on Sale
Great For Emergencies Or Outdoor Adventures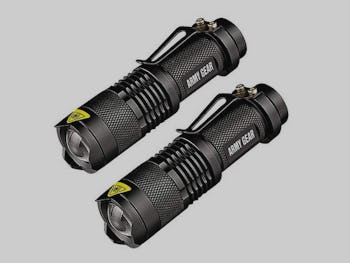 Inverse
The Details:
1-mile range + adjustable zoom lets you see and be seen from a long way out.
Choose from lower bright, bright, and SOS modes depending on the context.
Includes a storage case to stow away both flashlights in one place.
Variable voltage for efficient battery usage.
Why You Want It: These days houses, roads and cars are so well lit, there's seldom any need for a flashlight—until there is. Prepare yourself for emergencies with this military-grade two pack. You'll thank heavens you did if you ever get in a country car crash at night. Plus, what's a camping trip without a couple of good torches?
The Deal: The Inverse Shop had this UltraBright 2-Pack on sale for 80% off the $100 MSRP before, but after a recent $5 drop you get an even crazier deal—just $14.99 out the door for a pair of truly A-grade torches.