Get This A-to-Z Pack of DJ Production Apps at 75% Off
3-App Bundle Lets You Sample & Record, Edit & Mix, Plus Add Visual Flair For Awesome Sets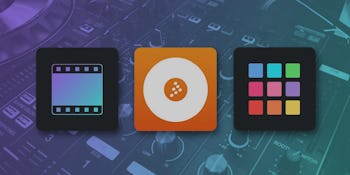 Inverse
The Details:
Start to finish package for DJ creation.
Make music with custom synced loops and finger drums using Remixlive.
Sync BPMs and keys, edit with color-coded waveforms, and use a range of integrated effects with Cross DJ.
Add visuals intuitively with Remixvideo for awesome multimedia sets.
Why You Want It: This is a 3-part, comprehensive package that gives you everything you need to make your own music, edit and mix, and add visual elements to your sets. The competition would cost hundreds of dollars for even one of these apps, but here you get all three apps for well below three digits.
The Deal: When you consider how much production apps usually cost, The Mixvibes Bundle is a complete steal at The Inverse Shop right now—usually $198.99, it's just $49 for all three apps after 75% off for a limited time.