We're in Love With This Perfect Indoor/Outdoor Shoe
The perfect shoe for everything, now exclusively at Huckberry.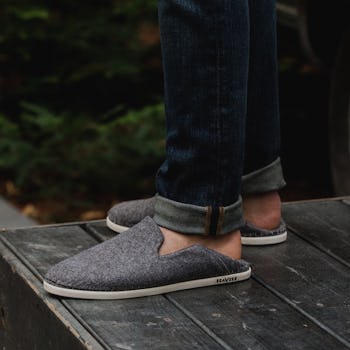 Huckberry
If you've ever woken up to cold feet, you've probably developed a slipper habit. And if you're anything like me, you've probably ruined of plenty soft soled house shoes after one damp walk to the end of the driveway to collect the mail. What if I told you that you never had to choose between the ultra comfy and the uber functional ever again? What if I told you SeaVee's Indoor/Outdoor Slipper Shoe could be the answer to all your footwear problems? What if I told you it's now being sold exlusively at Huckberry at a significant discount?
For ultimate comfort, this versatile design and included tread allow this to be the perfect multitasking shoe for the person on the go. You can wear them with or without socks due to the specially designed odor reducing wool construction. Felt uppers wick away small amounts of moisture while french micro terry cloth is stiched to the inside to provide the ultimate soft comfort.
Help together with ultra thin foxing tape and attached to a natural gum rubber, this shoe is both stylish and functional for the free spirit in you. Whether you need to make the damp hike to the end of the driveway, quickly take the anxious puppy around the block, step outside for an impromptu bonfire or just keep your feet comfortable at your camp site, the possibilities for this perfect shoe are endless.
Usually priced at the already reasonable $72 mark, these shoes are now on sale for only $57.98. They're available in neutral colors including Heather Grey and Navy so you can buy a pair for your partner or best friend, or just have two for yourself. Bonus points awarded for the size range up to a 13, if you've ever struggled finding a slipper with enough toe room to maintain promised comfort.