Sturgeon Moon Will Share the Sky With Mercury, Venus, Mars, Saturn, and Jupiter
It's going to be a busy night.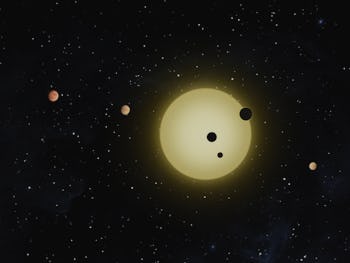 wikimedia
The full moon will face serious competition on August 26. Known as the Sturgeon Moon, the lunar spectacle will also be sharing the sky with Mercury, Venus, Mars, Saturn, and Jupiter at varying points in the early morning and night, giving us plenty of reasons to keep looking up.
The Sturgeon Moon, which gets its name from the freshwater fish that was once found in abundance in the Great Lakes, will reach fullness on August 26 at 7:56 a.m. Eastern. The full moon arrives at a time when Mercury is nearing its greatest western elongation, or angular distance, from the sun. With Mercury at its farthest from the central star — exactly 18.3 degrees from the sun along the line of the ecliptic — it's a great opportunity to catch a glimpse of the innermost planet on the Eastern horizon.
Mercury will rise at 4:46 a.m Eastern on the morning of August 26 and can be seen close to the horizon for those living on the East coast. Those who aren't morning people can still catch a lunar viewing when the moon rises at 8:01 p.m. Eastern that same night. While the moon will no longer be at its fullest, it won't look visibly smaller. The Sturgeon Moon will also be accompanied by a lineup of planets that will be visible throughout the evening.
Mars will rise at 6:20 p.m Eastern on Sunday night and offer vibrant views until 3:05 a.m. the next morning. The red planet will appear the brightest of the planetary appearances, offering "perfect visibility" to those on the east coast of the US.
Stargazers who start early on Sunday evening will also catch Venus before it sets at 9:10 p.m. Eastern, as well as Jupiter, which will be on display until 10:38 p.m. Eastern. In areas where there is less light pollution, Saturn will also be visible for most of the night before setting at 1:27 a.m. Eastern on August 27.
Weather permitting, this celestial parade will be visible without a telescope in areas with less light pollution. While a full moon can often drown out the appearance of planets in a bright sky, the apparent magnitudes of Venus, Mars, and Saturn mean that the Sturgeon Moon will still have to share the spotlight.