Bitcoin Price Hovers Above $7K as Market Adds $20 Billion in Half Hour
Bitcoin is rallying again but remains far below its 2017 highs. 
by James Dennin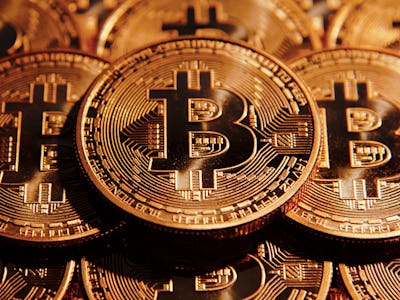 Bitcoin
The summer can be a sleepy time for asset prices. "Sell in May and go away," is one common expression, a folksy idiom of a strategy for avoiding letting slow summer months make a dent in your portfolio. But the same cannot so far be said for bitcoin, which after a rough start to the year is off to a pretty good summer.
Indeed, bitcoin had a particularly terrific Tuesday, with prices at one point rising by about 10 percent in just 30 minutes to help drive the price to more than $7,400 per coin, according to CoinMarketCap. No one really knows what's driving price fluctuations for sure, but there's a lot that's interesting about the most recent rally. One theory reported by Business Insider on Wednesday is that the 10 percent spike was driven by a so-called short squeeze.
Short selling is the absolutely wild way that traders attempt to profit off of stock prices (or in this case cryptocurrencies) whose prices they think are going to fall. How it works, in this case, is that you basically borrow someone else's bitcoin, sell it, and then wait for the price to fall enough for you to buy it back at a profit. But of course, because the person you borrowed it from isn't going to just let you hold on to their cash indefinitely, you might have to buy it back and cover your position. When a ton of people cover at once, you get a "short squeeze" where the price shoots up. Of course, that doesn't mean that the short sellers were necessarily wrong about bitcoin, either, just that they were wrong about the timing.
Then again, it's not just bitcoin that's having a good 24 hours. All of the top eight cryptocurrencies in terms of market cap were up, some well into double-digit percentages, as of Wednesday morning, according to CoinMarketCap.
What's Driving the Bitcoin Rally?
No one ever knows but there are a few interesting explanations. One is that the price simply got low enough so that it started to appear like more of a bargain to more people. It's still down about 45 percent for the year, according to Markets Insider. There may be some wishful thinking here, however: If you zoom back to last summer, bitcoin is still up a couple hundred percent.
But another more interesting development in the crypto world came yesterday as well when Mastercard announced a new patent that would allow for "fractional reserves of blockchain currency." That could mean the payments processing giant is working on ways to make credit card transactions backed by cryptocurrencies instead of fiat dollars a reality. If people could spend their bitcoin simply by swiping their typical credit card, they might be prompted to actually use bitcoin for purchases as opposed to price speculation. A novel concept!
Members of the crypto community are also enthused about the new leadership over at Goldman Sachs, which recently announced plans for a crypto trading desk back in May. Their hope is that the leader of the influential bank will be more amenable to cryptocurrencies than his predecessor Lloyd Blankfein who was relatively ambivalent.
Of course, just because people are interpreting these events as positive developments for cryptocurrencies doesn't necessarily mean that's the case. Coindesk's Omkar Godbole wrote Wednesday that as bitcoin pushes $8,000 per coin, it runs the risk of triggering a pullback.