Points or Cash-Back Credit Cards? The 2018 Guide
Do you want cold, hard cash or points to cut your vacation costs?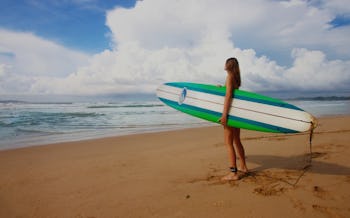 Choosing between a cash-back credit and a points credit card is one of those personal finance decisions that can have ripple effects you might not think about at first. A points card might result in a free flight to Tokyo, but a cash-back card might elevate your quality of life because you simply have more money.
To get the most of your rewards, we've come up with this comparison of cash-back vs. points credit cards. The next time you sign up for a credit card account, make sure it has one of these options. Choosing which is up to you.
Five Benefits of a Cash-Back Credit Card
1) Spend more, save more: Depending on your card and your spending, you could earn up to five percent of your spending back. The more you spend, the more you save. This is the main benefit of cash-back cards.
2) Bill paying is easier: It makes bill-paying a little easier. Because the cash-back balance accrues with each purchase, many people just opt to put that money toward their balance.
3) Tiered rewards: The cash back kicks in after you've spent a certain amount on your credit card, which can be a great reward — once you get there. If you know you're going to make a big purchase, it might be best to opt for a tiered rewards card and redeem the cash back immediately.
4) Bonuses: You can use your cash-back immediately, as you checkout, if you select that option. It might be a different account number, but the cash is all yours.
5) Simplicity: While the aforementioned tiered rewards and bonuses are cool and will appeal to anybody who enjoys gamifying their finances, the simplicity of cash back across the board is very appealing, too.
Five Benefits of Points Credit Card
1) Free flights: If you spend your points card at preferred retailers or just use it a lot (and make sure you pay off the balance each month with your paycheck), you'll rack up airline miles offered by various card companies. Make sure you pick a credit card affiliated with an airline that travels to the places you want to visit, though. If the airline credit card doesn't regularly offer flights to Tokyo, maybe pick another card.
2) There's a culture around it: Sites like The Points Guy will help you find the best deals if you're interested in turning your spending into a game. Check out FlyerTalk, a robust and active web forum where users trade tips on which points are the best for which trips.
3) Hotels: Various cards offer travel-related points, and hotel deals are often included. If you don't want to stay in an Airbnb and hate the idea of paying for a full-price hotel room, make sure your card has a points system set up for hotels. Often, massive hotel chains like Starwood already have points systems in place.
4) Eating out: Restaurants participating in points systems with credit card companies can also help your earn more points if you're feeling hungry for a restaurant that's involved in the points system.
5) Concerts and early access to ticketed events: If you have enough points, your credit card company may send you an email alerting you to presale dates for concerts and sporting events — anything that requires a ticket, basically. There are also meet-and-greets with famous people if you're interested in cashing in your points to get up close with a rock star.
There you have it, all the benefits of a cash-back and points credit card. Love budgeting something about your card that's not on here? Tell me your story at nick@inverse.com.
There you have it, all the benefits of a cash-back and points credit card. Love budgeting something about your card that's not on here? Tell me your story at nick@inverse.com.Previous Strategy Series Entries: