The Pyeongchang Winter Olympics Look Unrecognizable From Space
The Olympic Village looks like an alien landscape.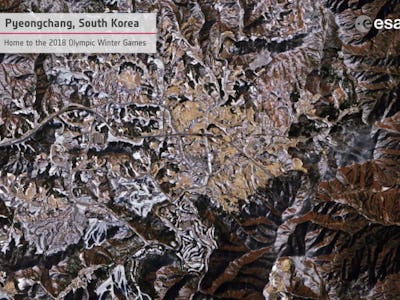 Screengrab via ESA/YouTube
So much of the Winter Olympics in Pyeongchang has been about height. Shaun White's gold-medal performance in mens' snowboarding saw him soar off the lip of the half-pipe high enough to make four full revolutions; Mirai Nagasu, meanwhile, leapt so high she became the first American woman to land a triple axel at a Winter Olympics. Not to be outdone, the European Space Agency showed off its mad hops in a video of the Olympics taken from space.
The video, released Thursday, sure shows off how high the twin satellites of the ESA's Copernicus Sentinel-2 mission soars above the Earth. These satellites orbit the Earth at an altitude of 488 miles — beat that, Shaun White! The satellites, which normally orbit the Earth to collect visual data about the changing Earth's surface, snapped this photo of Pyeongchang on January 30.
Join our private Dope Space Pics group on Facebook for more strange wonder.
The result is unrecognizable. From such great heights, the frigid Taebaek mountains look less like snowy 700-meter-tall peaks and more like a bunch of dry brown leaves under melting ice.
Fortunately, ESA guides us through this alien map by pointing out several key sites. In the center is Pyeongchang Olympic Stadium, nestled in a snowy valley. To its southwest is Alpensia Resort, the site of the biathlon and ski-jumping events and, crucially, where the shirtless Tongan flag-bearer Pita Taufatofua will make his debut in cross-country skiing later in the Games.
A little further down, at the edge of an ominous-looking peak, is the Olympic Sliding Center, where Emily Sweeney crashed in a luge competition earlier this week, and where bobsleigh and skeleton races are still to come. Lastly, there's the Olympic Village, tucked into a swirl of brown stone and icy snow that looks not unlike a tightly-wound chocolate Swiss roll.
Altogether, the video is a nice show of altitude from the ESA, but with such fierce competition around, it probably won't win any medals in this Olympics.