Beef Up Your Home Security With These 6 Wifi-Enabled Cameras
Keep yourself and your stuff safe – wherever you are.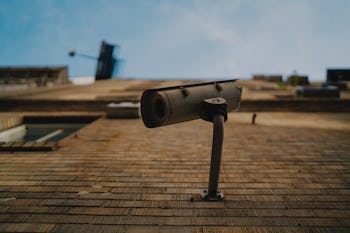 Unsplash / Rishabh Varshney
We've come a long way in a short time with home security. Gone are the days of those intruder alarms where you had to sprint from the front door to the keypad and punch in your secret code lest you want an alarm waking up the entire neighborhood.
Now, making sure you're not being burgled at any given time is as easy as downloading an app and checking in on things through your smart camera of choice. Here are six great, smart solutions for keeping you, and your things safe, including one very inventive, very sneaky option:
The nest camera, alongside being low-key and attractive, connects easily to your computer or phone via an app, so you can check it anytime, even when there's no pressing activity being picked up by the camera. It even has a microphone so you can tell people to buzz off, or come on in. Whatever your mood at the time. [Amazon, $174.95]
Another great wifi-connected home camera option, complete with full-HD and bright lights to make sure you never miss a trick. Has some great, useful build-in features like object and facial detection. [Amazon, $199]
That's four - count 'em - FOUR cameras that'll keep you in the know no matter how large your sprawling estate. They connect easily to wifi, come with their own proprietary mobile app, and are weatherproof even in some pretty gnarly conditions. [Amazon, $60]
Another great option from Ring, which also functions as a doorbell. Everytime someone at your door needs your attention, an alert can get sent to your phone or your computer, wherever you are. You'll never miss a package delivery again! [Amazon, $139.89]
Netgear seem to be on a mission to make your life as easy as possible, which is why their Arlo camera works great with Alexa so you need only ASK out loud in order to see a feed from the camera. Motion sensors allow for push notifications to be sent to your phone when movement by your house is detected, just in case you're super nervous. [Amazon, $140.54]
An effective budget option for people who just want a little extra peace of mind, these things look the part but don't actually do anything. Not that your neighbor who keeps stealing your New Yorker will know that. [Amazon, $17]