This Is What Typhoon Noru Looks Like From Space
Typhoon Noru is two weeks old and headed toward Japan.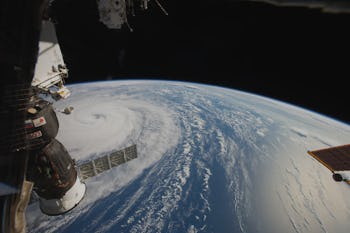 NASA
Astronauts aboard the International Space Station are watching the most powerful storm on Earth, Typhoon (or hurricane) Noru, churn in the Pacific Ocean.
The tempest is two weeks old and has reached speeds as high as 160 miles per hour, but it hasn't aroused much interest in the United States because the storm is headed toward Japan. Damaging winds and flooding are expected to hit the country this weekend.
Even space station astronauts, who orbit the Earth 16 times a day and continually witness captivating space oddities, have called the storm "a scary sight." NASA astronaut Jack Fisher tweeted the following after photographing the swirling cyclone:
It's currently high season for hurricanes in the Pacific Ocean, according to the National Oceanic and Atmospheric Agency's National Hurricane Center. The storm season in the eastern Pacific runs annually from May 15 to November 30, and in the western Pacific, most hurricanes form between May and October.
NASA's 18-year-old weather-monitoring Terra satellite, which is the size of a school bus, also captured a shot of the giant storm (shown below). At 26,000 miles above Earth, the satellite images show that clouds had shrouded the usually clear eye of the storm. Scientists suspect that these clouds are on top of the storm rather than inside of it.
Hurricanes like Noru form near Earth's equator for a specific reason: warm water. The water warms the humid air above it, which then rises into the sky. More moist air fills the empty space, and it too rises, bunching up and forming clouds. Eventually, a thick mass of spinning clouds develop over the ocean, and as astronauts can currently attest, the storms can grow to terrifying, destructive sizes.