FUTURE CITIES | Pittsburgh
An industrial city welcomes the driverless revolution with mixed results.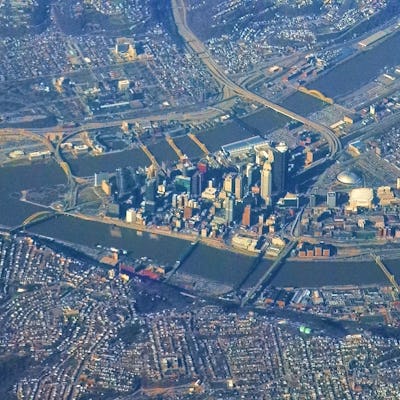 Wikimedia Commons
When self-driving cars hit the streets of Pittsburgh, the former industrial city suddenly took on a role as a laboratory for technology and transport innovation. The city's partnership with ride-sharing giant Uber was intended to be a move towards the creation of a seamless, automated, and hassle-free urban environment. But the downside of leading the way is being the first to encounter obstacles. Less than a year since Uber's August rollout, the company is on the outs with the city, and Pittsburgh's chances of becoming the America's first self-driving city are looking thin.
For hundreds of years, major transport infrastructure in the U.S. has been built through public-private partnerships. This highly successful model brings together private sector companies and public sector departments to share knowledge, generate ideas, and implement solutions. It's faster and more cost-effective than starting a new government department to pursue a particular project, or requesting bids and proposals from a range of different companies. This is because it allows all the expertise needed to realize a project to be channeled towards an end goal based on a combination of public need and projected economic growth. PPP is responsible for a large percentage of postcard-worthy infrastructure in the U.S., including structures as iconic as the Golden Gate Bridge and the Transcontinental Railroad.
In Pittsburgh, something very close to that PPP model fell flat before it ever really got started. Last year, the city established a specialist task force that intended to help it "make steps as a national leader in the safe, innovative development of highly automated vehicle technologies" according to Rich Kirkpatrick, communications director of the Pennsylvania Department of Transportation. "We recognize the tremendous potential these technologies hold for the future of transportation," he adds.
Pittsburgh's self-driving task force set about turning the city into a sandbox for automated vehicle makers and users. The city's strategic alliance with Uber made a lot of sense given the company's creation of an Advanced Technology Center in collaboration with Carnegie Mellon University around the same time. But emails obtained through a Right-to-Know request showcase the strained relationship between Uber and city officials, revealing how disputes over infrastructure funding strained the blossoming bromance between Mayor Bill Peduto and Uber CEO Travis Kalanick.
When Peduto requested Uber contribute $25 million in funding for the creation of a dedicated busway, the relationship between private company and public authority broke down. In an email to Uber's head of policy development, Peduto pointed out that the public had spent hundreds of millions of dollars building a public busway for public transportation. "If we are going to allow a private company to use it," he added, "there must be a substantial investment through a public-private partnership."
Pittsburgh city officials view the PPP structure as extremely important for the economic revitalization of the city. Previous arrangements such as the Pittsburgh Central Keystone Innovation Zone have demonstrated that these initiatives can deliver real growth. The award-winning cultural district brought together public and private interests to rejuvenate some of the most neglected districts of the city.
"The PPP should be viewed as one of many powerful economic tools, but a challenge with the structure is that many arrangements are led by large organizations," says William Generett Jr, CEO of Urban Innovation21, the partnership responsible for the PCKIZ development. "This can result in a tone deafness to the needs of ordinary people. For a PPP to drive the creation of an equitable city, it must be inclusive and converse with a diverse group of partners such as community groups and small businesses."
As California's tech firms extend their reach from the web into the homes and streets of America, partnerships with city and state authorities will be crucial in defining how technology reshapes infrastructure. For PPP projects to work, the interests of these powerful multinational corporations must be aligned with a strong vision from planners and regulators.
In an effort to better leverage private-public partnerships and boost negotiating power when dealing with giant tech firms, PennDOT has formed a broad coalition with key organizations in Ohio and Michigan. Combining the expertise of the respective Departments of Transportation, the Ohio Turnpike and Infrastructure Commission, and the Transportation Research Center, the "Smart Belt Coalition" will work together to pursue funding opportunities for PPPs that could make self-driving cars work for everybody.
A strategic plan for how exactly this coalition will structure PPPs and promote innovation in this field is still in the works, but, if Pittsburgh's trouble with Uber is any indication, the virtues and hazards of the approach are foreseeable. The right framework can ensure that the public benefits from private investment and rapid growth in technologies that might hold the key to rejuvenating rust belt economies in decline. The challenge now is determining whether technology can create new opportunities as fast as automation removes them.
"If we can form a robotics cluster around these new technologies, that could be a much needed economic driver," says Generett Jr. "Within the next 10 years, we will lose 30% of our jobs through automation. Hopefully more time will be spent talking about the impact of automation and we can make available the high-skilled jobs of the future."
For Pittsburgh, investing in the infrastructure to make automated vehicles a reality is about more than just creating profits for Uber or being recognized as the self-driving leader it dreams of becoming. Reviving the former industrial cities of the rust belt will require a new model of PPP – one that works for both government organizations and private companies. By standing up to a global heavyweight like Uber, Mayor Peduto might just be preparing Pittsburgh to lead the way.