NASA Astronaut and Climate Scientist Piers Sellers Dies at 61
Sellers was a spacewalker, scientist, and friend to our planet.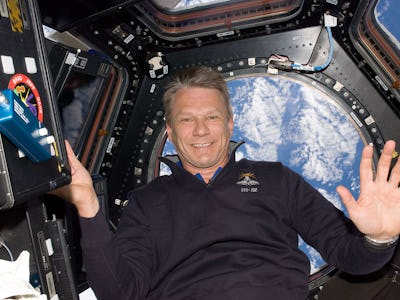 NASA
Just two weeks after the world mourned the loss of an American legend — John Glenn — the space community has lost another great. Piers Sellers, a British-born climate scientist turned astronaut, passed away on December 23 at the age of 61.
His death was confirmed by NASA Friday evening with a statement issued by NASA Administrator Charles Bolden. Dr. Sellers was diagnosed with Stage 4 pancreatic cancer in October 2015, but he didn't go public with his diagnosis until January 2016 via a column published in the New York Times. Sellers was known for being a champion of climate science, and an eternal optimist — he continued his research until he died.
"Today we lost a tremendous public servant who was dedicated to NASA, the nation and the world," Bolden remarked. "He was a strident defender and eloquent spokesperson for our home planet, Earth. Spacewalker and scientist, free thinker and friend to our planet, and all who seek new knowledge, to say he will be missed would be a gross understatement."
Sellers dedicated his life to studying how the biosphere — the region where humans and other organisms live — affects the atmosphere. Despite his research and the world's views on climate change, Sellers remained optimistic.
"Piers devoted his life to saving the planet," explained Bolden. "His legacy will be one not only of urgency that the climate is warming but also of hope that we can yet improve humanity's stewardship of this planet. His cancer diagnosis became a catalyst for him to work even harder on efforts to save the planet from global warming for the benefit of future generations."
As a child, Sellers grew up as a military brat and even learned to fly gliders before he learned how to drive. His passion for flying was fueled by stories of the great space race. Images and news stories of Russia's Yuri Gagarin rocketing into space, John Glenn orbiting the Earth, and ultimately Neil Armstrong walking on the moon inspired Sellers.
He dreamed of following in their footsteps, but England didn't have a space program. So, Sellers gained dual citizenship, and applied to NASA's astronaut corps. In 1996, he was selected as part of NASA's largest group of astronauts ever selected — the "Sardines."
In 2002, he became the third Briton in space, as he rocketed to orbit on the space shuttle Atlantis. Sellers flew in space three times, logging a total of 35 days on orbit. During those flights, he conducted six spacewalks, and helped to build the International Space Station.
Sellers book-ended his time in the astronaut corps working at NASA's Goddard Space Flight Center in Greenbelt, MD where he focused on global climate problems. He held various posts, including serving as the lead scientist for NASA's Terra satellite, an Earth-observing satellite that launched in 1998.
Sellers was determined to use his time as an astronaut to increase the public's awareness of climate issues. Most recently, he served as deputy director of Goddard's Earth Science Division, where he led a team of researchers who extensively studied the Earth's climate and weather, focusing on the causes and effects of climate change.
When asked about his time in space, Sellers said he was surprised by how thin the atmosphere was. "That really brought home to me how easily mankind can affect its own environment. The stuff we breathe, there's not much of it. It's a very thin atmosphere. We better pay attention," he said.
His cancer diagnosis spurred him to do more with his work. "I was forced to decide how to spend my remaining time," Sellers explained in a New York Times editorial. "I concluded that all I really wanted to do was spend more time with the people I know and love, and get back to my office as quickly as possible."
NASA and Bolden say that the effects of Pier's death extend beyond his work. He is described as an optimist, whose positive energy inspired everyone who knew him and was fortunate to work with him. According to Bolden, "His laughter, humor, and lighthearted spirit are as much a part of his legacy as his work."