The Dark Hot American Summer Travel Guide
On August 21, 2017, a complete solar eclipse will put whole states in shadow. Time to plan your trip.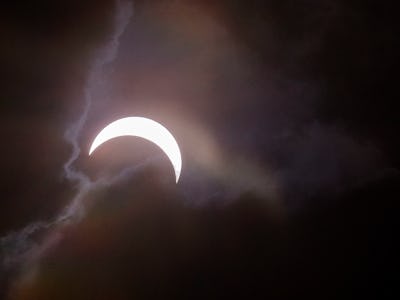 Getty Images / Ulet Ifansasti
August 21, 2017 will be a weird, dark day. On that date, the first total solar eclipse since 1979 will pass over the continental United States. It's a big deal, but you'll likely have to do some planning if you really want to enjoy the astronomical event to the fullest.
The true totality of a Total Eclipse — the area looking up from Earth where the sun completely disappears — is only about 300 km (186 miles) wide along its centerline. There's a big continent out there and a lot to consider. Therefore, it's good practice to get down to the nitty-gritty of your eclipse planning as soon as possible. Inverse, with more than a little help from the GreatAmericanEclipse.com, has done some of the legwork and taken out most of the guesswork on where to go and why. In compiling our list we took into account factors such as weather probabilities, terrain, concurrent events, and assembled what we think are the seven best places to catch the eclipse next year.
A word of caution, weather is unpredictable, so please remember these are some good spots that are likely to provide pleasantness, but preparedness is key. Check the weather frequently leading up to and on the day of the eclipse, and be mobile and ready to move at the last minute to alternates in case of weather or acts of god — those beyond just a total blackout of the sun.
For ease of planning, we note at each location when the eclipse totality — when the sun is completely obscured — begins and its duration. That said, get to your spot at least a couple hours before totality for the full experience. You don't walk into a movie in the middle of the third act, do ya?
7) Great Smokey Mountains National Park | Totality begins at 2:35 p.m. EDT
Duration of totality is 1 minute, 17 seconds
Sometimes the best place to see all nature has to offer is in nature. For this eclipse, there's no better place than Southern Appalachia. According to the National Park Service, weather in the Great Smokies in the dog days of summer is usually quite accommodating to some midday sun gazing:
"In the higher elevations, the weather is much more pleasant. On Mount Le Conte (6,593' elevation), temperatures above 80 degrees are extremely rare."
Since all the best views are at the higher elevations, this works out perfectly. Areas like Clingman's Dome and Cades Cove come to mind, but there are tons of vistas in a mountain range. Get there early, some of the best views are a bit of a hike, literally. That means packing a lunch, but it also means there'll be less people to spoil the eclipsing.
6) St. Joseph, Missouri | Totality begins at 1:06 p.m. CDT
Duration of totality 2 minutes, 39 seconds
St. Joseph, Missouri is best known for two things: Along with Sacremento, CA it was the starting point of the Pony Express, and the site where Jesse James was shot by that coward Robert Ford. On August 21, 2017 this city will get a chance to reinvent itself. It's smack-dab along the centerline of the path of the eclipse and the city and surrounding areas are doing all they can to take advantage of the situation. There's a Facebook page, and according to the Convention and Visitor's Bureau events are already planned for more than nine venues in and around the city. The biggest one will be at Rosencrans Memorial Airport where Front Page Science, an organization founded in 1996 and dedicated to this very eclipse, will provide filtered telescopes for public viewing as well as astronomers for talking about all things eclipse related … and all of this is free to the public.
5) Casper, Wyoming | Totality begins at 11:42 a.m. MDT
Duration of totality is 2 minutes, 26 seconds
Other than being one of the greatest places to raise a family, and the second largest city in Wyoming, there's not much going on in this pint-sized city that's home to just a shade over 55,000 people. All of that's going to change when those crazy astronomers roll into town for Astrocon 2017. It's no happy coincidence the annual meeting of these cads of the cosmos is scheduled to descend on Casper the day before the eclipse. The members of the Astronomical League are well aware the weather in Casper is mild around this time, and that the town lies on the elevated plateau so it's more likely to be cloudless.
If the immediate weather forecast proves daunting, there are highways a plenty and in all directions out of town. If you do plan on visiting this sleepy hollow, camping is probably the safest bet. You can already reserve your spot here.
4) Madras, Oregon | Totality begins at 10:19 a.m. PDT
Duration of totality is 2 minutes, 4 seconds
If Casper, WY is a sleepy city, then Madras, Oregon is downright unconscious. As of the 2010 census the town had just north of 6,000 residents, and the highlights of a short who's who list are baseball player Jacoby Ellsbury and gone-too-soon actor River Phoenix. That said, what Madras lacks in glitz and glamour, it makes up for in mild climate … and the fact that it's the best place to be the first in the country to view the eclipse. The town is nestled in a valley east of the Cascade Range of the Rockies, so Madras has cover from the clouds that will likely affect coastal areas of Oregon this time of year. Also, it'll be neat to watch the eclipse's effect on Mt. Hood when nestled just beneath.
Madras is going all out for this once in a lifetime shot at some tourist dollars, and in partnership with NASA has already set up a website for the occasion. They're calling it Oregon Solarfest, and the tagline speaks for itself:
Our close proximity to the Pacific Coast, clear skies and 360 degree views of the eclipse, framed by breathtaking mountain peaks, guarantee festival goers the experience of a lifetime.
3) Nashville, Tennessee | Totality begins at 1:27 p.m. CDT
Duration of totality is 2 minutes, 30 seconds
Earlier this year, [Tennessee got an element named] after it, and in 2017, as our friends at GreatAmericanEclipse.com point out, the capital of country music will be the largest city to be wholly enveloped within the path of the eclipse. Visit the Grand Ole Opry and take in a show. If you're too loose to be tied into one act, take in the Honky Tonk Highway. And, for a little taste of Greek Antiquity in the American South, you can visit the only full-scale reproduction of the Parthenon in the world right smack dab in Centennial Park. If you wanna combine that with the eclipse, remember to bring a banjo and a toga to get into the local spirit.
2) Carbondale, Illinois | Totality begins at 1:20 p.m. CDT
Duration of totality is 2 minutes, 41.6 seconds
There's being first, like Madras. Nashville is the biggest. And then there's the longest: enter Carbondale. The small city in Southern Illinois lies in the centerline of the eclipse's path and the exact point of the longest duration of totality lies just south.
Rocky Comfort Cabins may have a contradictory name, but it'll be a good spot to book for the longest view of total darkness from the eclipse located just off of Panthers Den Road — a sight so remote Google hasn't gotten around to street-viewing it yet.
Carbondale, Illinois is just a half an hour to the north for those who want a little more festivities along with their solar blackout. Southern Illinois University has made and maintains a website dedicated not only to this eclipse, but highlighting the singular feature of Carbondale and eclipses. This city is the proverbial crossroads and the only place where the 2017 eclipse, and the next eclipse to touchdown in North America in April of 2024 will intersect. That means they'll have twice as many opportunities to get it right.
1) Charleston, South Carolina | Totality begins at 2:46 p.m. EDT
Duration of totality is 1 minute, 32 seconds
Places on this list are included because of one thing and one thing only, they are great places to watch the actual eclipse. In order to be the belle of the ball, a destination has to bring more to the party than an unobstructed view and likely pleasant weather. Sure, Nashville's got the Grand ole Opry and a bunch of other stuff, but it's inland and not much goes on outside its borders. The Great Smokies will give unparalleled vistas of pastoral beauty, but to be our number one a place needs to attract people with a wide array of interests and outlooks aside from the Moonshadow.
Charleston, SC is number one on our list despite it being the furthest included from the actual centerline of eclipse totality because it has pretty much everything anyone could want. Access to water, aquariums, pirate history, Fort Sumter, plantations and if one and a half minutes of totality doesn't get your heart beating fast enough, the centerline is just an hour north on Route 17 in the Francis Marion National Forest.
To sweeten the deal, the American Atheist society is holding a convention in Charleston to coincide with the eclipse and talk about how god has nothing to do with anything. Add to that, you could actually follow the path of the eclipse into the Atlantic with the right boat, and there's really no telling where your eclipsing adventure could take you.
Choose Your Own Adventure
We're confident any of our seven destinations will satisfy the black-out joneses of even the most discerning and sophisticated eclipse watchers. It's certainly not an exhaustive list. As such, we conclude with what we thought was the coolest resource in our eclipse event hunting Rolodex.
The map embedded below was made by Xavier M. Jubier, who maintains a site that looks like it's from the early aughts, but is jam-packed with eclipse-related goodies and science. If you're the choose your own adventure type, this, along with GreatAmericanEclipse.com, should be your virtual planning starting point.
Please remember to never look directly at the sun without the appropriate protective gear. Yes, even during the eclipse.