Twitter Has Banned 125,000 Accounts Linked to Terrorism Since Mid-2015
Twitter is the reluctant gatekeeper in an ideological battle with real-world consequences.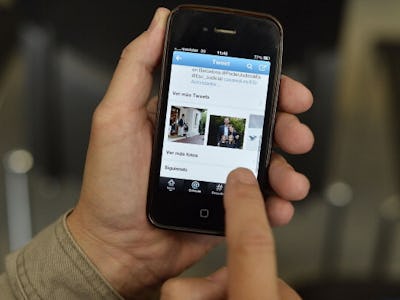 Carlos Alvarez/Getty Images
Twitter has booted 125,000 accounts linked to terrorist groups, particularly ISIS, since mid-2015, the company has announced.
"Our efforts have not stopped there," according to the blog post. "We have increased the size of the teams that review reports, reducing our response time significantly. We also look into other accounts similar to those reported and leverage proprietary spam-fighting tools to surface other potentially violating accounts for review by our agents. We have already seen results, including an increase in account suspensions and this type of activity shifting off of Twitter."
Islamic State militants have used social media, and especially Twitter, as a tool and a weapon since its beginning. Social media is a recruiting tool, a public relations vehicle, and a means to spread actual terror (what else could you call the choreographed video of the beheading of journalist James Foley?)
Twitter has long held a policy that its service should be free and open to all, but ignoring the issue is no longer an option. Government pressure is rising, and it's becoming increasingly clear that social media is a vital tool for terrorist groups. "As the nature of the terrorist threat has changed, so has our ongoing work in this area," the blog post says.
Of course, Twitter hates to be in the position where they are the de facto judge of what constitutes the promotion of terrorism, or to be seen as a little too cozy with law enforcement. But they have accepted some measure of accountability for the ways their platform is used for evil.
"There is no 'magic algorithm' for identifying terrorist content on the internet, so global online platforms are forced to make challenging judgement calls based on very limited information and guidance," the post reads. "In spite of these challenges, we will continue to aggressively enforce our rules in this area, and engage with authorities and other relevant organizations to find solutions to this critical issue and promote powerful counter-speech narratives."
Twitter's efforts to inoculate itself — a few accounts deleted here, a few more popping up there — will continue. Some groups may move to other platforms, and others will move in. But it's a fight worth fighting, in a world where the internet is the marketplace for ideas, and ideology is the underpinning of war and terror.