Eight New Teams Added to Hyperloop Competition This Summer
They're gonna test their pods.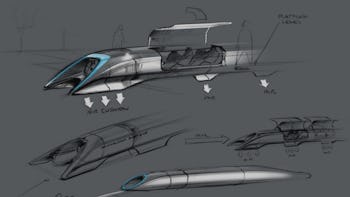 SpaceX
SpaceX Hyperloop Pod Competition announced today that eight additional teams will compete in their Competition Weekend this summer. The company chose the teams after revisiting their design packages to build and test the pod on Space X's track in California. They must have been cool enough for SpaceX to say, meh, let 'em do it!
In 2013, Elon Musk excited many when he offered up the Hyperloop for public consumption. SpaceX opened up the design of the pods, or capsules, in which passengers would travel, to teams of high school and university students.
This past weekend at Texas A&M University, MIT's Hyperloop team came in first place out of a field of 124 teams in the design competition. In all, ten teams were invited to turn their designs into prototypes over the weekend. Today's news takes that total to 18 teams.
And here they are, in no particular order:
Open Loop: Cornell University + Harvey Mudd College + University of Michigan + Northeastern University + Memorial University of Newfoundland + Princeton University
Bayou Bengals: Louisiana State University
NYU Hyperloop: New York University
VicHyper: RMIT University in Australia
HyperLift: St. John's High School
Illini Hyperloop: University of Illinois at Urbana-Champaign
USC Hyperloop: University of Southern California
Mercury Three: University of Wisconsin, Milwaukee
Watch out. The block's about to get crazy.