ShakeAlert May Become America's Early Earthquake Warning System
What if you got an earthquake text?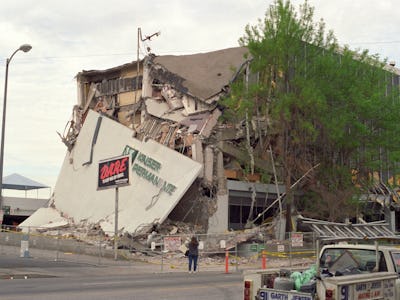 Gary B. Edstrom/Wikipedia Commons
On America's West Coast, the question isn't if the next big quake is coming, it's when. What we know: It'll hit within 50 years and there's a one in seven chance that we'll experience "the really big one," as The New Yorker put it last July.
For those of you who don't know what that means, this 8 or 9 magnitude puppy (like, maybe a super big puppy that bites a lot or eats babies) would be massive enough to grant it a prime spot on the deadliest earthquakes list.
But what if everybody in the earthquake zone received advanced warning?
Today at the White House Earthquake Resilience Summit, policy makers, researchers, and even an astrophysicist discussed how they'll use technology — mostly through cell providers and the internet — to alert the population.
"ShakeAlert," an emergency earthquake alerting system now in its beta phase, detects seismic activity below the earth's surface and sends that to a computer — at the speed of light. The computer determines the strength and distance of the waves and sends reliable information about when and where someone will feel the ground shake during an earthquake through easily accessible electronics like televisions, computers, and mainly smartphone apps.
So, when the crusty earth starts to slip around on its molten center, sending rocks on fault lines crashing into each other, the video above — from Richard Allen at the Seismology Laboratory at the University of California Berkeley — is an example of what you'd see pop up on your computer screen. You're told just how much time you have before you start to feel the ground shake below you — from seconds to minutes depending on your proximity to the epicenter.
"If everyone receives a few seconds of warning, [ShakeAlert] can reduce the injury by earthquake by 50 percent," said Allen, who pointed out that the 1994 6.7 magnitude Northridge Earthquake in southern California racked up $2 to $3 billion in injuries, "and that wasn't big."
ShakeAlert will also perform automated functions — with 20 seconds notice, workers can slow down a train from 70 mph to just 10. It will also stop elevators and open them at the nearest floor and control data security. Intel has made more than $25 billion in capital investments, which will save them millions of dollars per hour in potential downtime.
The gathered officials also discussed how earthquake-proofing federal buildings will keep government officials alive and how alerting the community, even a few seconds before a big shake, can save millions of lives and mucho, mundo dollars.
It's about time. All the cool kids — China, Japan, Mexico, Turkey, and even Romania — have an earthquake alert system in place. And with the United States Geological Survey (USGS) estimating last year that about half of Americans are exposed to potentially damaging shaking from earthquakes, we'd look pretty dumb if we didn't do something about it.
Also today, President Barack Obama signed an executive order to establish a federal earthquake risk management standard, which in non-government speak means the government wants to be sure that the buildings it owns, leases, finances, or regulates are ready to withstand a major earthquake. They want to be so sure that they actually put seismographs in one Seattle-based federal employee's yard and designed her house to withstand a magnitude 9.0 earthquake. The big idea behind making federal buildings resilient is that if they're up to code, those officials who live and work in them will be around to help others in a natural disaster.