Lyft and Waze Partner to Fight Traffic Jams
Lyft wants Waze users to know that yes, all of its drivers are looking at Waze.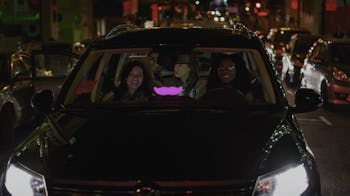 Lyft
Maybe you've been there: You're in a taxi or Uber or Lyft car and the driver is heading straight for a traffic jam, just a few miles ahead. You know this because you are looking at Waze, but your driver is not. You show him your phone, he feigns interest, and in a few minutes you're facing down a wall of red brake lights.
Today, Lyft announced it's teamed up with Waze to make life a little easier for you — and probably a teensy bit more difficult for Uber. As the number two in the ride-share market, the San Francisco-based ride-hail company's deal with the popular traffic jam app offers hope for trips that avoid congestion.
Lyft will use Waze's Transport SDK (Software Development Kit), a new in-app feature that lends itself to route-updating in real-time, allowing your driver to add passengers and pick them up while en route to the next destination, which is expected to significantly reduce wait time. As part of the deal, Waze is also going to be the default navigation tool for Lyft drivers. Finally, Lyft drivers will be able to alternate between the Waze map screen and and the Lyft pick-up location screen with a "Return to Lyft" button.
While the Lyft announcement is sure to please Waze diehards, the three updates don't match Uber's announcement that it would use GPS and Gyrometer technology to check against subjective reviews drivers and passengers leave about each other.
Since launching a carpooling pilot in Israel known as RideWith, Waze has been in the market for a sensible partnership, ideally one that would rattle its competitor's cages. While this news probably won't rustle Uber, it could move members of the Cult of Waze — which has maintained considerable devotion even after Google bought Waze in June 2013 — over to Lyft.