5 Clean Beauty Products You Have to Try Now
No one wants to put products on their body with ingredient lists full of items you can't pronounce. If you're ready to upgrade to clean beauty, you need these finds.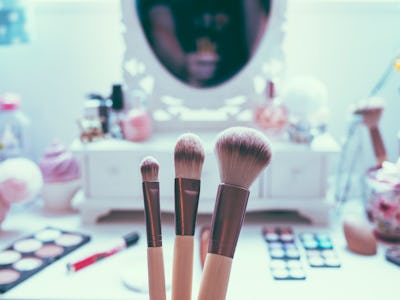 Unsplash / Jamie Street
These days, everyone is obsessed with knowing exactly what's in the products they buy—especially for anything that goes on their body. And we get it! Long gone are the days where people are comfortable buying products full of ingredients they can't pronounce. So, if you've also been caught up in the clean beauty wave, you're going to appreciate these five Amazon finds that are chock full of natural ingredients.
Ecotools Makeup Brush Cleansing Shampoo
Everyone knows that makeup brushes can harbor dirt and bacteria which is why you need to clean them regularly. But harsh soaps and detergents can not only degrade your brush bristles but can also irritate your skin when you use them later on. Ecotools is a longtime popular clean beauty brand that's always prided itself on developing products sustainably. Their makeup brush cleansing shampoo is paraben, phthalate, and petroleum-free and doesn't contain any perfumes or irritants. And best of all, it keeps your brushes clean with a plant-based formula and the container is made from recycled plastic.
New York Biology Dead Sea Mud Mask
What could be more relaxing than a facial mud mask? In addition to removing impurities from your skin, these masks can help to give you a moment of zen—unless you're worried about the ingredients. Everyone knows that mud from the Dead Sea is one of the most potent (in a good way!) skincare ingredients that you can use. But the New York Biology Dead Sea Mud Mask is 100% natural and safe for all skin types. The mask is promoted as an anti-acne, deep skin cleanser, and a pore reducer. Their FDA-approved, cruelty-free formula does not contain any alcohol, parabens, and sulfates. But what it does contain is a powerful combination of natural moisturizers such as aloe vera, chamomile, vitamin A, sunflower seed and jojoba oil. Available in two scents, you can choose between classic and lavender.
Beauty by Earth Organic Self Tanner
Even though we all know it's bad, people continue to sunbathe. But if you're trying to limit your sun exposure, faux tans are the way to go. Beauty by Earth's organic self-tanner gives you that coveted sun-kissed glow without the risk of UV rays. The brand promises to help you achieve a perfect tan that is free from common at-home tanning pitfalls like orange hues, streakiness, blotchiness or dark spots. The cruelty-free formula contains organic shea butter and coconut oil as well as antioxidant-rich Japanese green tea. What's not in it: parabens, phthalates or chemical-based active ingredients found in traditional self-tanners.
Majestic Pure Himalayan Salt Body Scrub
Dry flaky skin is an embarrassment that we know all too well. One of the best ways to banish it is by using an exfoliator. But many traditional exfoliating scrubs contain plastic bits that don't dissolve and end up in the water supply. If the idea of fish and other wildlife eating plastic breaks your heart, then it's time to switch to a natural (and dissolving) scrubbing solution. Majestic Pure's cruelty-free Himalayan salt scrub gives you all the positives from that iconic pink salt without the guilt of typical exfoliators. In addition to sloughing off dead skin, the pink salt also improves skin's appearance thanks to its natural infusion of calcium, zinc, copper, potassium, magnesium, and iron. But Majestic Pure ups the ante by adding lychee and almond oil for added moisture.
Sky Organics Organic Tinted Lip Balm
Not everyone wants to wear bright and bold lip color. If this is you, that doesn't mean that you don't want any touch of color. Thankfully, tinted lip balms are a thing, and they're quite popular. Again though, if you're concerned about ingredients, you might be hesitant to buy a tinted lip balm from a traditional brand. Lucky for you, Sky Organics is a well known natural brand that creates skincare and beauty products that are ethically and sustainably sourced and don't contain any fillers or harsh ingredients. Their tinted lip balm is certified organic and is non-toxic, non-GMO, cruelty-free and gluten-free. Through the use of natural ingredients like castor oil, coconut oil, argan oil, and cocoa butter, this four-pack offers a range of shades that all promise to keep your lips plump and moisturized.