You can make your home look way more expensive with any of these easy upgrades under $35
We only recommend products we love and that we think you will, too. We may receive a portion of sales from products purchased from this article, which was written by our Commerce team.
by Alexandra Elizabeth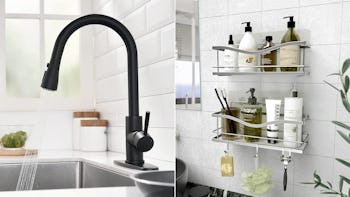 Taking good care of your home can be a strenuous undertaking. I mean, let's face it: Repairs, remodels, and replacing old furnishings can be pricy and require some serious time and labor. But it doesn't have to be so daunting or expensive to make your home look like a million bucks... especially when you're shopping on Amazon. In fact, this list has tons of home upgrades to choose from, and they're all under $35.
Whether you're looking to add some practical storage with a decorative flair, make useful modifications to your bathroom, or even just to amp up the cozy atmosphere in a particular room, this collection has something for you. What's more, all of these upgrades are super easy swaps or additions. No complicated installations or novel-length instruction manuals here.
So go ahead and get shopping from this list of highly curated and highly reviewed products. Your new home awaits.
1. These sleek-looking carafes made of glass
Upgrade your kitchen serve wear with this set of glass carafes. Not only does it add an element of timeless sophistication, but these sturdy glass pitchers have also tapered necks that make them easy to grip and pour. For an extra element of convenience, each pitcher comes with a plastic cap to prevent spills.
2. A set of floating shelves that add style & storage
If you're short on storage space, try adding these floating shelves for a practical but decorative touch. They come in three per pack and are made from durable medium density fiberboard. The U-shape is ideal for storing small items that might otherwise slip off, like spices in the kitchen and more.
3. This pad that helps banish carpet wrinkles & slippery rugs
If you're tired of your area rugs bunching up or worse, shifting around and slipping out from under you as you walk, try these nonslip pads. Made from sturdy PVC foam, these pads feature a checker board pattern that grips your floors while still being breathable. Plus, it can easily be trimmed with scissors to match your rug's shape perfectly.
4. A wall-mounted paper towel holder that saves counter space
Add a touch of charm with this wall-mounted paper towel holder. Made from durable but lightweight bamboo, this rack comes with all the necessary hardware you'll need to install it. Not only will it clear off much-needed counter space, it's also easy to maintain: just wash it down gently with soap and warm water to clean.
5. The faux window frames that add a touch of rustic flair
This two-pack of wall-mounted window frames is a great way to add the feeling of open air to a space even if you're short on natural light. Made from pastoral-looking pine, you can hang them either vertically or horizontally, allowing you to customize your space. Everything you need to install them is included.
6. This compact attachment that turns your toilet into a bidet
You don't need to shell out tons of cash for a bathroom remodel when you can just easily install this bidet attachment instead. It's non-electric and comes with simple step by step instructions to set it up. Once you're up and running, you can choose from hot or cold water and even adjust the pressure.
7. A rack that puts your kitchen tools on display like a pro
Channel professional chef vibes in your home kitchen with this pot and pan rail. Measuring just under 2.5 feet long, it has slots for up to 15 pots and pans and can support up to 22 pounds of weight. The powder-coated iron finish adds a chic, industrial touch to any kitchen.
8. The compact strip that adds soft lighting wherever you need it
Add a touch of backlighting anywhere you need it with this cordless light bar. It features LED bulbs and is battery-powered. Plus, it's controlled by a wireless remote that lets you power it up, dim the lighting, and more. It can be installed with adhesive or the included screws.
9. These luxe-looking, low-maintenance sheets
These queen-size sheets are a silk microfiber blend and are here to upgrade your bedroom with some serious longevity. They're soft and breathable but also fade-resistant, wrinkle-resistant, pilling-resistant, and stain-proof. They're washer and drier safe, and you can snag them in several colors.
10. A super-soft memory foam bathroom mat
Upgrade your comfort level in the bathroom with this toilet mat. Made with a thick interior layer of memory foam and coated with velvet-like microfiber, you can place this contoured mat around a toilet's base or under a sink to pamper your feet. Bonus: it stays in place thanks to the grippy PVC dots on the bottom.
11. This throw blanket that adds a cozy touch anywhere
This ultra-soft microfiber fleece sherpa blanket is a cozy way to upgrade a couch, armchair, or bed. It's reversible, with your choice of several bold hues on the outside and a fuzzy white or grey fleece lining on the inside. Plus, it's machine washable for extra convenience.
12. A utensil holder that livens up your kitchen's decor
If you're looking for a bit of farmhouse energy in your kitchen try this accented utensil holder. Made from patterned ceramic with a bronze-hued band, this holder undeniably adds charm but is also multi-faceted. You can also use it as a flower pot, a mail holder, or even an ice bucket.
13. This stainless steel bartender kit that makes mixology a breeze
Never doubt whether you have the right tools to craft a drink again with this bartender kit. It features tons of stainless steel tools, like a double jigger, strainer, shaker, and more all in a sleek stand. Plus, it even comes with a booklet of cocktail recipes printed on convenient cards, so you'll never be left scratching your head over a drink order.
14. This long-range wireless doorbell kit
Make sure you never miss a guest with this wireless doorbell system that has a 1,000-foot range. The waterproof system is ideal for large spaces and is fully customizable: It has over 50 chimes to choose from and four volume settings. Simply install it via the included adhesive or screws.
15. These containers that take your kitchen from messy to managed
Level up your cabinet organization with these airtight food storage containers. With four locking tabs, they seal air and moisture out to keep your food fresh. Plus, they come with extra labels and a chalk pen so that you can easily identify your items in a snap.
16. The velvet-lined hangers that give your closet an affordable upgrade
These nonslip hangers are here to help your cluttered closet. They use the tension of textured velvet and grooved strap slots to keep garments from sliding off, but they also feature a slim profile which helps to cut down on bulk. Each hanger can hold up to 10 pounds of weight, too.
17. These hanging floral sconces that are part lighting, part decor
You can add rustic charm at an affordable price point with these mason jar sconces. Each jar holds decorative silk flowers with a cluster of battery-operated LED lights, making them both practical and whimsical. The wooden backboard and hanging rope offer a homey feel, too.
18. These caddies that let you install an extra shelf anywhere
If you're short on storage space, these shower caddies can help. Installed via clear adhesive tape, you can put these shelves up anywhere without struggling to drill through tile. They come two to a pack and can support up to 15 pounds of weight, making them ideal for bathroom supplies or even heavier kitchen supplies.
19. A pair of down-alternative pillows to upgrade your bedding
If you're looking for pillows that don't rely on animals for fill (but are still super soft), try these bed pillows. Made from a down alternative fiber-fill and featuring a microfiber cover, these pillows wick moisture and help you stay cool. They're also machine washable, making them super easy to care for.
20. This rainfall showerhead that turns your bathroom into a spa
This showerhead will upgrade your bathroom experience by delivering high-pressure rainfall showers over a generous 6-inch surface area. It's made of sleek chrome and features rust-proof rubber nozzles to make cleaning low maintenance. Installation can be completed in about five minutes.
21. The sleek candles that add ambiance without the flames
Real candles can be costly and burn quickly, but these flameless, battery-operated candles can be re-used again and again without the hassle. The LED bulbs flicker just like real candles and can run for up to 150 hours. Better yet, they're remote-control operated, so you can set the mode or timer from wherever you are.
22. The sink attachment that turns your faucet into a water filter
This Brita faucet filter system hooks onto your sink's faucet to deliver filtered water in an instant. It can be used for up to four months or for 100 gallons of water — whichever comes first. It even features multiple settings — like stream and spray or filtered or unfiltered — so you don't waste the filter when doing dishes.
23. These frames that takes the gallery-wall guesswork out
Gallery walls can be tricky to assemble but this picture frame pack makes it easy, offering a fun decorative touch to any room. Each kit includes 11 frames of varying sizes made from medium-density fiberboard with a protective plexiglass cover. The stylish white interior mount really makes your photos pop, too.
24. An easy way to add extra storage space to your drawers
You can tackle messy drawers with these expandable drawer organizers. Unlike traditional utensil trays, this model extends from 13 to almost 20 inches long, allowing you to customize your space. It's made from lightweight and durable bamboo, so it will hold up to wear and tear.
25. These strip lights that turn any bathroom into a vanity
Upgrade your bathroom mirror with these LED strip lights. Each strip offers up almost 10 feet of bulbs which are easily installed via the included adhesive backing. It even comes with a dimmer switch so you can adjust the level of brightness: just plug them into an outlet and you're good to go.
26. A set of magnets that upgrade the look of your garage
To add some rustic touches to an otherwise plain garage, just pop on these accent magnets. Mimicking the look of handles and hinges, the magnets have a strong hold and are both weather- and UV-resistant. They'll work well with any steel doors and they won't rust, either.
27. This contact paper that lets you add a marble finish anywhere
You can line drawers, cover countertops, decorate cabinets, and more with this removable marble wallpaper. If you're looking for an affordable upgrade you don't need to commit to forever, this paper is perfect, as reviewers have remarked that it's easy to remove. Just cut, peel, and stick to apply.
28. These stickers that deliver an instant backsplash without a contractor
Skip the costly renovation and go with these peel-and-stick wall tiles instead to deliver the backsplash of your dreams. Made from water-resistant vinyl, these tiles can easily be trimmed to fit many kitchen spaces. Each pack comes with 10 tiles. To remove, use a hair dryer to heat up the tiles and simply peel them off.
29. The smart bulbs that add instant mood lighting
Take your lighting to beautiful new heights with these LED smart bulbs. Featuring 800 lumens but using just 9 watts, the bulbs can be controlled via the app or paired with a home assistant like Amazon Alexa. To add extra ambiance and customization, they can be set to a whopping 16 million different colors and even sync to the rhythm of your music.
30. A bathroom organizer with a slot for almost everything
Give your dental care routine a refresh with this wall-mounted toothbrush holder. It's got slots for toothbrushes, floss, rinse cups, and even dispenses toothpaste with a touch. Just adhere it to the wall with the included tape and you're good to go. It's even earned an impressive 4.4-star rating on Amazon after over 4,000 weighed in.
31. The easy-to-use strip that adds backlighting to your TV
Elevate your TV-watching experience with these LED strip lights that can be placed on the back of your set to provide a pleasing glow. Powered via USB, they plug directly into your TV's existing port, meaning they won't clog up your outlets. The bulbs are controlled via remote and can be set to 16 colors or four brightness modes.
32. This rack that helps protect your wine glasses while saving space
No need to risk your fragile wine glasses knocking around in cabinets, because this wine glass rack is here to protect them. It easily installs underneath a cabinet or shelf with self-tapping screws that don't require drilling. It can fit up to nine glasses at a time, all of which slide in and out of the rack with ease.
33. A fluffy rug that brings instant warmth & comfort to any space
If you've been searching for low-maintenance floor decor, look no further than this faux fur rug. Not only is it ultra-plush, it's fade resistant and machine washable, so you can give it a refresh whenever you want. Plus, thanks to its strong rubber backing, it grips the floor and stays in place.
34. A chic hanging mirror that adds style to your home
This round hanging mirror is minimalist design at a minimal price tag. Made from glass with brass finishing, the delicate-looking chain suspends the compact mirror, making it an excellent touch for smaller spaces like bedrooms or bathrooms. Hang it on its own or snag it in multiple sizes to create a gallery wall of mirrors.
35. These sheer curtains that can dress up any windows
If you're looking for a gauzy, lightweight addition to your windows, these sheer curtains will do the trick. Made from durable polyester, they feature a rod pocket to slip easily onto your existing curtain rod. They'll let in tons of light while still delivering a bit of privacy, too.
36. A set of smart plugs that let you control your devices remotely
This set of smart plugs pairs with your devices via Wi-Fi to give you hands-free control of your appliances. They even pair with home assistants like Alexa. You can use them to set timers for your devices to power down, schedule when they should power on, and more all on the app.
37. Streamline your office with this large desk pad
The benefits of this faux leather desk mat are plentiful. For one, it can be used as both a writing pad and an extra-large mouse pad. For another, it helps protect your desk underneath from scratches and spills. And lastly, if offers a chic look that can tie your whole desk together, and it comes in tons of neutral shades.
38. This expensive-looking faucet with three modes
Level up your kitchen with this faucet featuring a pull-down hose. Made of stainless steel with a brushed finish, this faucet has an 18-inch long hose with three settings: stream, spray, and pause. Most conveniently, these buttons are located on the head of the faucet, allowing you operate it with one hand as you spray down your dishes.
39. A luxe-looking silverware set at an affordable price point
Add some style to your place settings with this gold-colored silverware set. Made from durable stainless steel, this set is dishwasher safe and corrosion-resistant. This 20-piece set will serve four guests and includes a dinner spoon, a teaspoon, a salad fork, a dinner fork, and a dinner knife for each diner.
40. The decorative magnetic tool that holds your curtains in place
No need to struggle with wrangling your drapes, because these curtain tiebacks are here to keep them open with ease. Using powerful magnets, these ties snap easily into place. Use them as traditional ties instead, or attach them to magnetic surfaces to create a hook that holds your curtains back.