18 must-have laptop accessories & gadgets on Amazon
Upgrade your tech setup without spending a lot.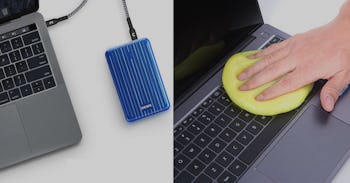 Inverse/Amazon
We may receive a portion of sales if you purchase a product through a link in this article.
Between work, web browsing, and TV streaming, there's a good chance you log many hours in front of your laptop — which means it's susceptible to things like scratches, food crumbs, and cat hair. (Did you know it's a scientific fact that cats love laptops?). That's why the best laptop accessories are crucial for protecting your computer, creating an ergonomic workspace, and even enhancing its performance.
What to consider when shopping for laptop accessories & gadgets
Depending on how you use your computer, you may find a number of these cool laptop accessories appealing, if not essential. Case in point: If you commute or travel with your computer, you'll probably want a padded sleeve or messenger bag to protect it from bumps, drops, and scratches, which can save you from any potential "oh, no" moments. (Likewise, a flexible keyboard cover that protects your laptop from the inevitable pet hair and minor coffee spills can also help prevent such moments). Spending hours at a desk? Consider investing in an adjustable laptop stand and wireless keyboard to make your workspace more comfortable and ergonomic, so you can end each day without a crick in your neck. Last, if you find yourself on a lot of video calls, an external webcam and ring light are the best way to diffuse light and project an image that's crisp and clear — even in a dim space.
I've rounded up a few of the best laptop accessories — which are all available on Amazon — to upgrade your tech setup at a minimal cost, so you can keep your computer in pristine condition for years to come.
1. A USB-C hub with 6 ports
If your laptop is short on ports, this portable USB-C hub has got you covered. The compact device has 10 ports to accommodate almost any device you have, including several USB ports for syncing and file sharing, an audio jack, an HDMI port, and SD card slots for data storage. The USB-C connector plugs right into your computer with no external drivers required, so setup is a breeze, and it's compatible with MacBook Pro.
According to a reviewer: "This device allows me to use all of my old accessories with this new laptop, such as as my USB keyboard and mouse, my VGA display, and an Ethernet connection at my office. I can connect all of these devices to this multiport adapter and leave it in the office, then when I return I just have to reconnect into one USB-C port on the laptop, and I am back in business. The price was right, and it was shipped and received promptly. A great convenience!"
Ports: 3 USB ports, 1 USB-C charging port, 1 Ethernet port, 1 4K HDMI port, 1 3.5-millimeter audio port, 1 SD card reader, 1 TF card reader, 1 VGA port
2. A portable laptop stand with 6 adjustable angles
Work at the most comfortable viewing angle with this adjustable laptop stand, which supports most devices from 10 to 15.6 inches. The aluminum alloy stand features six angles and has soft silicone pads to help keep your laptop firmly in place. When you're done, the stand folds up for compact storage — use the included carrying pouch or stash it in your laptop bag, and you can be on your way.
According to a reviewer: "I use it for working at home and travel. At home I am currently using a Thinkpad and for travel I use a Surface. Both devices sit comfortably on the stand. The stand is quite sturdy with pads on the bottom of the legs to keep it from moving on almost every surface. I strain less reading my laptop screens. Added benefit was the reposition for better camera placement during Zoom calls."
Compatible device sizes: 10 — 15.6 inches | Colors: 4
3. An anti-theft backpack for added security
For extra peace of mind while running around town, check out this anti-theft backpack that's earned more than 35,000 reviews and an impressive 4.6-star rating. Made from water-resistant polyester, it features a zippered and padded compartment for your laptop that rests right next to your back — instead of in front — making it difficult for would-be pickpockets to get anywhere close to your computer. Even better, the combination lock keeps the zippers firmly secured for added protection. The backpack also features a built-in USB charging port and headphone port, along with multiple pockets and compartments for all your other essentials. It fits laptops up to 15.6 inches and comes in seven colors, like gray, blue, and pink.
According to a reviewer: "The added security lock is perfect for the product price! The backpack can snuggly store my 15'' inch long, 9'' wide laptop, and comes with a spare pouch that I keep a Samsung 17'' inch tablet in no problem. The extra features like the charge port and headphone jack are cool (you just need a portable battery pack to plug in tho). Oh and there is alot of storage space for any paperwork, clothing, or just any sort of travel accessories all fit into the first main lockable zipper. There are two other smaller zippers but without a lock feature. I just store my chargers and such in them. Overall a great product!"
Compatible laptop sizes: 15.6 inches (featured), 17.3 inches | Colors: 7
4. A cleaning gel for the keyboard
This universal gel cleaner makes it easy to keep your keys — and the spaces between the keys — dust-free. The goo-like gel molds easily into tight spots where it instantly attracts and lifts away, dust, dirt, crumbs, and grime. It's reusable, safe to use on electronics, and can also clean car air vents, cameras, and other narrow, hard-to-reach spots.
According to a reviewer: "This substance takes the shape of your keyboard, goes down into it, and lifts out dust, hair, and all sorts of stuff you never thought might have fallen in there! And, none of the goop gets left behind! Once you're through with it, after only a few minutes, your keyboard looks like new. No kidding!"
5. A ring light that diffuses light for video calls
If you're often on video calls, a ring light can brighten your space and help diffuse light for a professional-looking image. This one can clip directly onto your laptop or attach to the included tripod for freestanding light and, thanks to its compact size, it'll minimally interfere with your view of the screen. It's powered via USB cable, can tilt back and forth for the perfect angle, and features five warmth settings ranging from cool white to warm white.
According to a reviewer: "This light was perfect for my needs. It provides adjustable levels of brightness and adjustable hues. It only takes a few seconds to assemble. I use it for Zoom and Teams meetings on my laptop. Build quality is good and product provides enough variety in lightning choices to fit all of my video conferencing lighting needs. Highly recommended."
6. A webcam cover that ensures privacy
For added cybersecurity and privacy, you can keep your laptop's built-in camera covered with this easy-to-install webcam slide cover. The matte black metal cover adheres to your laptop and slides over the camera lens when it's not in use. And thanks to the slim design, the cover will blend in with almost any computer.
According to a reviewer: "I originally used a random sticker or a post-it to cover the camera of my laptop. This product makes it significantly easier since all I have to do is slide the cover over to reveal or cover up the camera."
Colors: 4
7. A cooling pad with built-in fans
For extra cooling power, opt for a laptop cooling pad. The lightweight stand has two adjustable heights, a breathable mesh surface, and three built-in fans to keep your computer cool and running efficiently while you work or game. There's also a dual USB port to connect to other devices and an optional LED for backlighting. Choose from three colors.
According to a reviewer: "So I bought a new laptop (16inch and it fits perfect) and after around an hour of set up and an hour of light gameplay/youtube my laptop was so hot I couldn't keep my hand on it. I put this pad underneath and had 2 games open, youtube, and a couple other things running for around 4 hours and it kept the laptop cool the entire time. [...] I was also worried it would be loud and my mic would pick up the noise but these fans are quieter than my laptop fans."
Compatible laptop sizes: 15.6 — 17 inches | Colors: 3
8. An easy-to-use camera that instantly upgrades video chats
To quickly upgrade your video chats, add this webcam with a microphone that's compatible with both Mac and PC. It offers 1080p HD resolution with 90-degree wide-angle viewing, and the camera automatically adjusts for color and brightness, so you'll get a good picture even if your workspace has dim light. The built-in stereo microphone captures sound within 17 feet and features noise cancellation to cut down on sound clutter.
The camera clamps onto your laptop easily, and it comes with a 360-degree adjustable tripod. There's also a privacy shutter so you can cover the camera lens when it's not in use. Best of all, the camera connects via USB and requires no drivers — just plug in and start chatting and recording.
According to a reviewer: "After having to upgrade my computer to work with Zoom and other online programs all at once, I had to also purchase a webcam. I purchased this camera after reading the favorable reviews. It came right on time, packaged well, and works wonderfully. I simply plugged it in, and used the handy tripod to position the camera the way I preferred. It works great- I have received comments about how clear the image and sound are. I really like the shutter that shuts the lens when I don't want the camera on."
9. A lap desk for your laptop — & it even has room for your mouse
In the work-from-home era, a comfortable couch set-up is essential, and this cushioned lap desk has you covered. Not only does the smooth surface of the desk allow your computer to get proper ventilation but the two bolstered pads keep the desk raised and your legs cool and comfortable. The desk fits laptops up to 15.6 inches, has a mouse pad and slot for your phone, and comes in both right- and left-handed orientations.
According to a reviewer: "I love my new lap desk! My 15.6" laptop fits on it perfectly and the built in mouse pad and phone holder are excellent! It is lightweight, comfortable and definitely keeps my legs and laptop cool! I didn't realize it has a carrying handle at the top so that's an added bonus!! I definitely recommend this!"
Compatible laptop sizes: Up to 15.6 inches | Colors: 6
10. These screen wipes to keep your laptop clean
These screen cleaning wipes make it easy to remove fingerprints, smudges, and dirt from your laptop display. The individually wrapped wipes are incredibly portable, and the streak-free, quick-drying formula gently cleans without leaving behind residue. You can also use them to wipe down phones, tablets, keyboards, and eyeglasses.
According to a reviewer: "Love these convenient, great working screen wipes. I use them on my laptop, iPads and iPhones, as well as eyeglasses. They also work well on other electronic screens such as microwave and dishwasher. Easy to carry and easy to use. Highly recommend."
11. A laptop messenger bag with lots of storage space
For easy portability, this laptop messenger bag features an adjustable strap, so you can sling it over your shoulder or wear it across your body. And if you prefer to tote it using just the carry handles, you can detach the shoulder strap entirely to remove the extra bulk. The sleek, lightweight bag is made from water-repellent fabric and has a layer of padding to absorb shock in case of accidental bumps or drops. Inside, there's plenty of storage space, with a main compartment, storage pockets, and a strap to secure your laptop. It fits most laptops up to 15.6 inches, and the luggage strap means you can secure it to your suitcase if your travels take you a bit farther from home.
According to a reviewer: "This bag is exactly what I needed. It has enough space for my laptop, charger, few notebooks, and some pens. It has more space than I thought. It's also good quality."
12. An adapter that connects your laptop to an external monitor
If your laptop doesn't have an HDMI port, this adapter turns your USB-C port into one and gives you the ability to connect your laptop to an external monitor or TV. This Anker dongle is compatible with a variety of laptops (provided your device has a USB-C port and supports DP Alt Mode) and supports video up to 4K so you don't lose clarity when you are mirroring or expanding your screen.
According to a reviewer: "I keep coming back to Anker products because they deliver. We use this USB-C to HDMI adapter to connect various devices to an HDTV during meetings. [It] works with laptops, phones, etc. No need to download any drivers and no power source is needed. Just plug it in and share your display."
13. A wireless keyboard & mouse combo
If you're using a laptop stand, you'll want to get a wireless keyboard and mouse for an overall ergonomic setup. This Logitech wireless keyboard and mouse combo have racked up 6,500 five-star reviews, and it's easy to set up: Just plug the corresponding USB receiver into your computer and you're ready to go — no driver required. It's compatible with Windows (but not intended for use with Macs) and comes with batteries included. Plus, the keyboard has Logitech's SilentTouch technology for quieter key clicks.
According to a reviewer: "I purchased this set to use with my laptop and I absolutely love them! The keyboard doesn't cause fatigue in my fingers while typing long forms. The mouse is comfortable and glides easily."
Compatibility: Windows, Chrome | Colors: 2
14. A USB-C to USB adapter to use your old thumb drives & chargers on your new computer
Some new laptops have gotten rid of the standard USB port in favor of the smaller USB-C port (I'm looking at you, Apple). Although we can't hold on to old technology forever, you can snag this USB-C to USB adapter so that you use your old thumb drive (or wired mouse, keyboard, or USB charging cables) a little longer.
According to a reviewer: "I have bought four of these so far, because I love them. As a MacBook Pro owner where everything should be Thunderbolt or USB-C, I found that most of my devices were not prepared for that jump. Enter this adapter. Anything that attaches via USB-A (standard USB most people are most familiar with), can plug into this adapter, and then the adapter plugs into my laptop.It's small, unobtrusive, and sturdy as heck. I keep a couple in my travel bag, and a few here and there around the house, so that I always have one fairly close to me that I can use if I need it."
Colors: 3
15. A padded sleeve that protects against bumps & scratches
This affordable laptop sleeve is a great way to protect your computer when you're on the go, and it works for Mac users and PC loyalists alike. It comes in 34 colors like gray, black, and midnight green, and it's available in a range of laptop sizes, so there's sure to be one that's right for your device. The sleeve is made from water-repellent polyester with a layer of shock-absorbing foam padding and a soft fleece lining to protect your computer from dust, scratches, and other mishaps. It zips closed and also has a zippered front pocket where you can stash headphones, pens, and other essentials.
According to a reviewer: "I love the color of this case and the inside of it is so soft! I know I don't have to worry about my macbook air getting scratched or damaged in this case! I have taken it with me out of the country and traveled to and from my college out of state, a very durable case [...] I even have room to store a couple extra things in the main pocket if I need to! The side pocket is great for charging cords and my USB adapters that I need for certain projects."
Sizes: 7 (ranging from 12 to 17.3 inches) | Colors: 34
16. A keyboard cover that blocks dust, crumbs & more
This universal keyboard cover can help protect your laptop against crumbs, dust, minor coffee spills, and daily wear and tear. The ultra-thin polyurethane cover is designed to shield your keyboard without interfering with typing, and it's flexible, washable, and easy to remove when it's time for a cleaning. It's available in blue and clear, and you can choose from options with or without a numeric keypad.
According to a reviewer: "I was afraid this membrane might be to stiff, and not allow me to properly feel the keys - not at all. I can hardly tell it's there. My fingertips can easily feel even the little bumps on the F and J keys. Running my finger around the perimeter of the cover is all it takes to seal out dust and dirt, and keep it firmly in place without any sliding around. I'll be getting more for my other computers."
Sizes: 13 — 14 inches, 15 — 17.3 inches, and Desktop | Colors: 2
17. A flash drive for storing & transferring files
A flash drive is always handy for storing and transferring files from your laptop, and this affordable one is compatible with most PC and Mac computers. The retractable design keeps the flash drive protected while it's in your bag, so it's easy to bring files along wherever you need them.
According to a reviewer: "This is so easy to use and has amazing storage capability! As an author, yet someone who ISN'T very tech savvy, I used to worry that if something happened to my laptop all my hard work would be gone- now I have this to back everything up! It's great!"
Sizes: 32GB, 64GB, and 128GB
18. A portable charger that can actually power your computer
With this portable charger, you can add hours of battery life to your laptop as it can charge a MacBook Pro 13-inch 0.9 times and provide a full charge to most other laptops, according to reviewers. Plus, it can charge your phone more than two times over. It has two USB-A ports and a USB-C port to accommodate a variety of laptops, and it allows you to charge up to three devices at once. It uses a micro USB to recharge, has an LED indicator on the front to let you know how much battery is left, and it's TSA-approved for air travel.
According to a reviewer: "I travel and write on the road, and sometimes I'm not near a power outlet to charge my phone and Surface Pro 8 laptop. This power bank easily changes [...] phone and ear buds, but more importantly, can charge my Microsoft Surface Pro 8 1.75 times per change. I can get a full day of work between an initial charge and this power bank."
Colors: 2