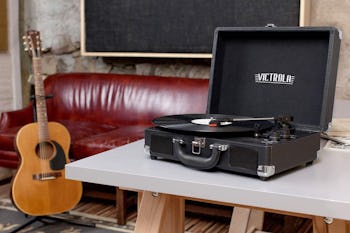 Shopping
The 4 best Bluetooth record players
We only recommend products we love and that we think you will, too. We may receive a portion of sales from products purchased from this article, which was written by our Commerce team.
Amazon
Record players are perennially in vogue, and for good reason — they offer a rich sound that digital files just can't re-create. That said, many new record players have modern improvements such as Bluetooth technology that make them more versatile. The best Bluetooth record players play your vinyl collection flawlessly while offering wireless sound input or output options as well. It's as simple as that.
How to choose a Bluetooth record player
Before you start shopping around for Bluetooth record players, think about how you'd like to use the wireless technology. Some record players have Bluetooth input, which allows you to use the record player as a Bluetooth speaker, playing digital music from your phone or computer through its built-in or external sound system. Alternatively, there are the turntables that have Bluetooth output, which allow you to listen to the vinyl record you're playing on the record player on wireless headphones or a wireless speaker.
Other features to consider
Aside from Bluetooth, record players come with a variety of additional features to make your listening experience more enjoyable. All of the turntables on this list have built-in preamps to help with sound quality, as well as RCA outputs that allow you to connect the turntable to external wired speakers. They're also all equipped with an auto stop feature to keep your records from spinning after they've ended and potentially damaging the record. (Some also have auto start or auto return features, which drop the needle at the start of the record and return the tonearm to its holder position, respectively.) Built-in or included speakers are available with some models, as is a USB port to convert your analog music into digital files right from your record player. While all of the players are equipped to play records at the standard 33 1/3 RPM or 45 RPM with an included adapter, one is also able to play 78 RPM disks.
Shop the best Bluetooth record players
In a hurry? These are the top picks for the best Bluetooth record players:
Below, you'll find some of the best Bluetooth record players to help modernize your favorite old-school music experience.
1. The overall best Bluetooth output record player
Boasting a 4.7-star average rating on Amazon after more than 4,200 ratings and counting, this Audio-Technica record player with Bluetooth output is a great option for listening to records via headphones or a wireless speaker. While it doesn't have a USB port or speakers, it's a solid all-around pick for quality that lets you customize your setup. Plus, it has a sleek low-profile design that would look good anywhere.
One reviewer wrote: "I ordered this turntable because of the Bluetooth connectivity to external speakers. Set up was a breeze it connected first try to my home entertainment system that also has Bluetooth capability. The sound quality is great and with the entertainment systems sub woofer it added the bass that had been missing for so long playing my albums on a portable turntable through bookshelf speakers. Other features that are nice are auto start and stop with the push of a button without having to manually place the needle on the album. I would absolutely recommend this turntable for anyone looking for great sound quality and Bluetooth capability."
Bluetooth: Output | Outputs: RCA (3.5-millimeter jack for stereo output) | Speeds: 33 1/3 RPM, 45 RPM | Built-in preamp: Yes | Auto start: Yes | Auto stop: Yes | Auto return: Yes | Built-in speakers: No
Comes with: 45 RPM adapter, RCA output cable, removable hinged dust cover, power cord
2. A budget-friendly turntable with a built-in speaker & Bluetooth input
This vintage-inspired Victrola Journey turntable with Bluetooth input is a classic starter model that comes with built-in speakers and Bluetooth input so you can play music wirelessly from your phone. It also has some other excellent features, including three speed settings (including 78 RPM) and an extra aux input for plugging in wired headphones to listen to music on your own. The Victrola Journey is available in over a dozen colors and patterns, ensuring the model you choose matches your aesthetic just so.
One reviewer wrote: "This little record player is fantastic and has returned me to the joys of collecting and playing vinyl LPs. It is sturdy, has a small footprint and very simple to use. Highly portable but I have mine in one place and have connected nicer speakers via the RCA jacks on the back. It comes with pretty good dynamic range speakers built into the cabinet but you are not going to get the full sounds that you probably want unless you hook up other speakers and a sub woofer. I bought the Logictec Z323 system for mine and I now feel like I have the best stereo system I could ever want. Rich, warm sound and thanks to the huge number of cheap, old LPs out there, I have access to music that either never made it to CDs or is too expensive. I really feel like a kid again with this turntable!"
Bluetooth: Input | Outputs: RCA (phono/line jacks for stereo output) | Speeds: 33 1/3 RPM, 45 RPM, 78 RPM | Built-in preamp: Yes | Auto start: No | Auto stop: Yes | Auto return: No | Built-in speakers: Yes
Comes with: 45 adapter, power cord
3. A stylish record player with Bluetooth output
For perfectly combining looks and functionality, look no further than this record player from House of Marley. The turntable is gorgeous with bamboo detailing, and it has excellent Bluetooth output functionality for anyone who wants to listen to vinyl through Bluetooth-enabled speakers or headphones. It also has a USB port and comes with a cable to connect the turntable to your computer if you want to convert audio to digital files.
One reviewer wrote: "Wow! This is an amazing turntable! Purchased as a gift for my wife - it's so much better than I had even expected. Outstanding design, craftsmanship, quality - and when paired with the Marley speaker, sound! Absolutely delighted with this!!!"
Bluetooth: Output | Outputs: RCA (phono/line jacks for stereo output), USB to convert audio to digital | Speeds: 33 1/3, 45 RPM | Built-in preamp: Yes | Auto start: Yes | Auto stop: Yes | Auto return: No | Built-in speakers: No
Comes with: 45 adapter, USB cord, RCA to 1/4 inch cord, fabric dust cover, AC adapter
4. A set with bookshelf speakers and Bluetooth input
If you're looking for a Bluetooth turntable that comes with external speakers, check out this high-quality record player system. It comes with two bookshelf speakers, and all three components are made with aesthetically-pleasing materials that look like wood. Use the speakers to play your vinyl or, with the help of Bluetooth input, play music from your phone or other devices.
One reviewer wrote: "Setup is really simple and it looks amazing. The wood is a very rich color. I like that it looks like a classic record player, but has a lot of new conveniences. I have it setup right in my living room. For all the features this speaker has, it's hard to beat the price. The radio comes in very clear, and the Bluetooth connected flawlessly. I like that I'm able to copy my vinyls to mp3. It's a big cost saver not having to repurchase music I already own so I can listen to it in the go. The sound quality is really good. The audio has a very clear sound, it tinny at all. I've turned it up very loud and there is no crackle from the speakers. I'm excited to add to my record collection so I can kick back with a glass of wine and relax to some great sounding music."
Bluetooth: Input | Outputs: RCA (phono/line jacks for stereo output), USB to convert audio to digital | Speeds: 33 1/3 RPM, 45 RPM | Built-in preamp: Yes | Auto start: No | Auto stop: Yes | Auto return: No | Built-in speakers: No, but includes external speakers
Comes with: Two speakers, RCA cables, 45 adapter, removable hinged dust cover, power cord