Amazon keeps selling out of these clever things because they make your home so much more comfortable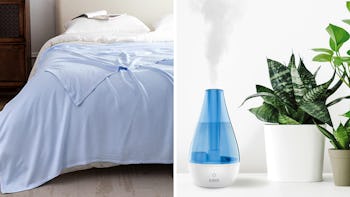 We may receive a portion of sales if you purchase a product through a link in this article.
After a long day of work, running errands, taking care of kids, or accomplishing whatever else was on your lengthy to-do list, you deserve to unwind in a sanctuary of a home. Sounds dreamy, right? Well, what if I told you I could help to make that vision a reality? This list actually features 40 items that will seriously up the cozy factor in your place — and they're so clever and unique that you may have never even considered scooping them up for your home (until now that is!).
From a bath pillow for luxurious at-home spa sessions to practical, yet pleasing picks like an edible flower seed kit to products that'll add some major ambiance (think candles, an essential oil diffuser, and more), you can't go wrong with any of these products for your home. But act fast — these items tend to sell out on Amazon because they're just that good.