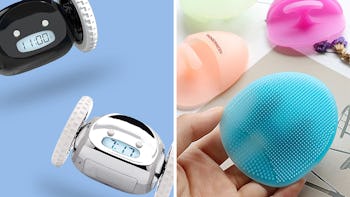 Shopping
Amazon can barely keep these weird things in stock because they're so genius
Who doesn't love a quirky product that works?
We may receive a portion of sales if you purchase a product through a link in this article.
Throughout the day-to-day, there are often those moments where you think, "If only I had a [insert strange object] to accomplish [insert annoying daily task]." It could be dealing with the conundrum of how to store your seasonal items when you have zero extra space or figuring out how to get up in the morning without hitting the snooze button 22 times. This list is here to help you: Amazon can barely keep these weird things in stock because they're so genius.
Feast your eyes on vacuum storage bags that will literally reduce even seriously bulky items like comforters to 80% of their original size. Or get yourself out of bed in the morning by chasing around an alarm clock on wheels that will jump, turn, shake, and hide from you to get your blood pumping fast.
Whether it's a condiment fork made especially for extracting pickles, peppers, or olives, or a food chopper that does all the work for you, these niche items will have you sailing through the day with ease.