Create Animations, Banners, and More With This Wildly Cheap App
Animatron Studio Pro is currently 95% off.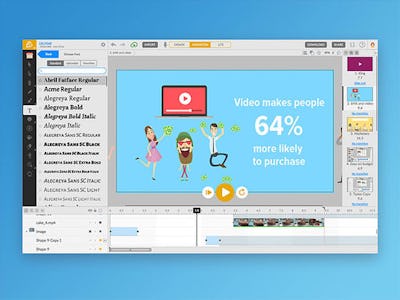 Stack Commerce
Just because you're not aspiring to break down the front door at Pixar, doesn't mean an understanding of animation should pass you by. Not just great for making 2004-era flash videos that high schoolers show their friends at lunch, an animation suite is a near-essential tool for marketers and content creators.
Animatron Studio Pro gives you the tools you need to create animations and graphics that will engage your audience, even if you have zero design or coding technical know-how. With lifetime access to its service, you'll be able to make mobile-friendly animations in your web browser, craft explainer videos, design HTML5 banners, make stunning presentations, and more, also with collaborative tools for people looking for some extra feedback. With Animatron, you've got the power to reach, engage with, educate, and connect to millions of people in new and unique ways. You can export your work in all manner of formats, too, like HTML5, SVG, GIF, and video with universal playback.
The service is used by companies around the world like Google, NASA, Amazon, Disney, Fox, and many more. However, that doesn't mean you need to be a multibillion corporation in order to take advantage of its benefits. Not at this price.
Normally running a cool $1,000, Animatron Studio Pro is currently 95 percent off. Ninety-five! That's right, for a limited time, Inverse readers can attain lifetime access to all the tools offered by Animatron Studio Pro for just $49.99. That's a deal so good that you don't even need to be enticed by an Animatron Studio Pro-created video with a bunch of happy dancing hippos or whatever.