I Used Mobvoi's Shower Speaker for a Week and Showering Got Way More Tolerable
Here's Mobvoi​'s​ TicHome​ ​Mini with Google​ ​Assistant​.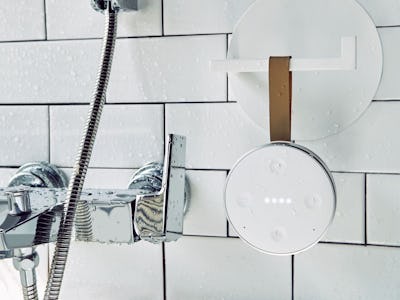 Mobvoi
Anyone who knows me will tell you I'm notoriously terrible at showering. It's not that I don't like being clean, but like the act of sleeping, I find bathing a waste of time. An activity I resentfully take part in in between tweeting and Snapchatting.
Enter: Mobvoi​'s​ TicHome​ ​Mini with built-in Google​ ​Assistant​.
The Beijing-based company launched TicHome Mini this month, "a wireless, splash-proof smart home speaker built with Google Assistant." The perfect item for those who can't live without media, even while showering or even swimming.
At $99, the speaker is an affordable "wire free" alternative to Google Home. And like Google's flagship voice assistant speaker, the TicHome was ready to use as soon as I managed to pair it with my Google Home iPhone app.
"We wanted to create a smart home device that could truly go wherever you go," Zhifei Li, CEO and founder of Mobvoi, tells Inverse. "By enabling Google Assistant, the TicHome Mini allows you to stay connected and streamline easier than ever before by setting reminders, event invites and even getting real-time traffic, weather and news updates."
According to Mobvoi, the device is "certified splash-proof with an IPX6 rating, which means you can safely use it anywhere, including your kitchen, shower or pool." So, into my aging Brooklyn bathtub it went.
"Hey Google? Play…Drake," I demanded with a mouthful of water, as I adjusted my fixed shower head's water temperature. Only, I'd forgotten to link my Spotify account as my default music player, forcing my teal TicHome Mini to sadly inform me all she has is a Google radio playlist of Drake tracks.
This won't do.
I reached out to my phone on the sink, and with wet hands, quickly switched my default player. Within seconds, 2011's Take Care featuring Rihanna began blasting out of TicHome.
And must say, the sleek round shape fit well within my millennial, startup product-heavy shower caddy, which includes subscription Harry's razors and handmade soap. The process was much better than listening to fuzzy podcast audio from my phone speaker or leaving the shower to adjust the volume on a bluetooth speaker perched on my sink.
The next 15 minutes — including my weekly deep conditioning hair mask — felt like a breeze. And yes, of course I pretended to be in a music video. On more somber days, I chose to match my mood with melancholic songs by Banks, as seen below:
Aside from enabling terrible shower singing, the TicHome Mini's features came in handy the rest of the week while I juggled work, babysitting and running errands around my neighborhood and cooking dinners. I even got in the habit of grabbing my new buddy off my shower caddy and bringing it into my room to keep my podcasts playing as I got dressed.
According to Mobvoi, my Google Assistant "gets smarter over time which ensures TicHome​ ​Mini​ ​will seamlessly integrate into your daily routine with new features and functionalities." While a week may not be enough for my new friend to memorize all my habits, it definitely got easier asking Google to play music I like. After a couple of days, she began playing remixes by similar hip hop artists I typically listen to.
Here are some of the speaker's features I noticed while using it for a week:
Google Assistant skills include giving you updates on news and traffic; taking notes, scheduling reminders & setting alarms; as well as "offering advice on where to eat, drink or shop." To wake up for an early yoga class, I asked Google to set an aggressive alarm in case my phone doesn't go off.
Assistant-integrated apps and service providers like iHeartRadio, Nest and IFTTT are accessible on the TicHome Mini, allowing access to third-party platforms in one place. While I don't have a smart camera in my apartment, linking one like the Nest to the TicHome seemed easy enough in my Google Home app.
TicHome Mini includes four supported languages: English, German, French, Japanese and comes in black, white, teal and pink.
Wifi and Bluetooth, in case you're in the woods without service.
My week with my TicHome, like any new relationship, felt both exciting and a little scary. Having to speak to a voice assistant may be the next frontier, but if you prefer to click a button to play music, you may not be ready for a smart speaker.
For anyone looking to add a splash-proof device to their smart home kit, a TicHome is a fun addition to any bath, kitchen or pool.