How Volkswagen Plans to Win the Mobility Wars
Here's how Volkswagen wants to get you around your city of the future.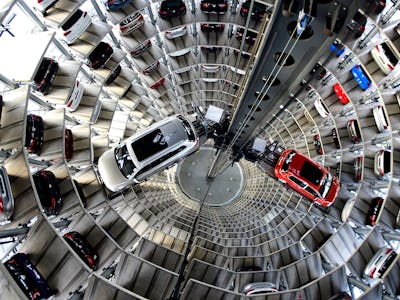 Getty Images / John Phillips
Monday was a big day for Ole Harms. The former Volkswagen executive announced Moia, a new company under the VW umbrella — of which he's the CEO — at TechCrunch Disrupt in London. Harms wants Moia to be "the beating heart of every city," and described from the stage in London his plans to develop electric shuttle vehicles that commuters will hail with an app. In a press release, Matthias Müller, VW's CEO, put in clearer terms Harms' mission: "Even though not everyone will still own a car in the future, Moia can help make everyone a customer of our company in some way or another."
Moia, the headquarters of which will be based in Berlin, isn't a unique idea among automakers, and neither is Müller's goal for it. The competition to be the go-to provider in "mobility" — essentially defined as how to get around a city beyond owning a car — has only begun, as numerous car companies that saw the success of Uber enlisted executives to devise multi-pronged approaches to intra-city transport. Ride-sharing, car-sharing, shuttle buses, and car subscriptions are available in many cities already, with autonomy and battery power on the horizon.
On the sidelines at TechCrunch London, Harms explained to Inverse how self-driving cars will change Moia, the role of Gett — a ride-hailing app VW partnered with this year — and whether he sees Tesla as a Volkswagen competitor. (Moia is projected to launch in two major European cities by the end of 2017.)
How does autonomous driving fit into the plan for Moia?
It will be a central building block in the mid- to long-term future. We are convinced the first step will be to bring shared solutions at scale to the cities, because then we can already solve a lot of the existing problems. With autonomous cars, we can improve these services and make them safer and more enjoyable. It's up-and-running 24 hours, so there are different economics to this. But we do not only bet on the autonomous future. Our business models also need to work on shared solutions, based on electric cars with a driver.
So shared electric cars first, autonomy if it's possible later?
Definitely. We will do our tests and pilots on that, and this is in the next year. We fully believe in autonomous cars, but we really want to expand our on-demand portfolio, and autonomous cars will be a central aspect of that.
When will we see these cars on the road?
I think it's potentially a bit too early to say. We have a strong ambition to operate pilot fleets before 2020, and I personally believe that we will have the first fleet up and running, and these will be small fleets, by 2021.
And they would complement the vehicles with drivers?
I think it depends city-by-city, whether we would see coexistence, or if there are some thoughts in some regions where they close areas for only autonomous cars. It depends on laws, infrastructure, you need to have right conditions and markings. We'll definitely see both.
I understand Gett, a VW partner, announced a new a "Gett Together" ride-sharing taxi service today. How does that fit in?
You would need to look at this as a two-pillar strategy. We have the partnership with Gett, and potentially others, on the ride-hailing piece at global scale, with Gett focused on Europe but we would go to other markets. Obviously, it would be nice, and this is our objective, to operate VW vehicles in the Gett fleet. But in parallel, this is a second pillar, we develop our own services that we also want to own end-to-end. That means customer interface, an app, fleet operations, and the specialist vehicles. So in the end we want to leverage each other's strengths.
Volkswagen is planning to invest $3.5 billion in the electric future. How do you see yourself in relation to Tesla? Are you competing?
This is something I always say: the whole mobility market is in a very early stage. A lot of different competitors to think about, and what you see is a lot of players are coming into each other's space. For me, it's really hard to say what our competitor would be in 2020, but somebody who runs electric built-to-purpose vehicles on their own platform, that would be our competitor.
And there are a lot of plans, reveals, and ambitions that are articulated in the press, but you need to sit and wait until you really see it in the market. Obviously, we want to develop a reasonable footprint in that on-demand mobility market.