Elon Musk says we need to build more tunnels: "it's just a hole in the ground."
Imagine, "30 layers of tunnels."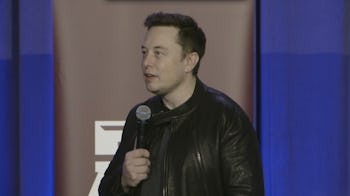 Elon Musk said on Saturday that the key to alleviating congestion in cities across the world lies underground.
"Build more tunnels," Musk said. "Tunnels are great. It's just a hole in the ground," he deadpanned, to laughs from students at SpaceX's Hyperloop Design Competition at Texas A&M in College Station, Texas.
"It's not that hard, but if you have tunnels in cities, it would massively alleviate congestion. You could have tunnels at all different levels, you could have 30 layers of tunnels, and completely relieve the congestion problem in high-density cities. So, I highly suggest tunnels."
MUSK'S TUNNEL TIMELINE
Musk fielded a variety of questions during the Q&A that came at the end of the Hyperloop Design Competition awards ceremony. At times it felt like a post-lecture chat, and at others, well, like Comic-Con (he declined selfies, but said he'd sign Hyperloop awards). Questions ran the gamut of Musk's endeavors: Hyperloop, SpaceX, Tesla, and of course, Mars (and where he'd like to go after that):
"I think the most important thing is to maintain a self-sustaining city on Mars," Musk said. "I think that's the most important thing for humanity. If we have a self-sustaining city on Mars … that could ultimately lead us to go beyond the solar system."
The competition at Texas A&M included 124 teams of college and high school students that submitted designs for passenger pods for the Hyperloop transportation tube, dreamed up by Musk and explained in a heralded 2013 whitepaper that describes a pod moving at more than 700 mph through low-pressure tube (similar to how a puck on an air hockey table moves.)
Musk's appearance was officially a surprise, but many expected him to show up.
The Massachusetts Institute of Technology Hyperloop team won first place. The top ten teams will head to California this summer to test their pods on a Hyperloop test tube. Here are the top five teams, judged in the competition areas of design and build, design, and subsystems:
5.) University of California-Irvine
4.) Virginia Tech
3.) University of Wisconsin
2.) Delft University
1.) MIT
As for his inspiration for Hyperloop, Musk said, "I was stuck in LA traffic and I was an hour late for a talk."