3 Leather Jackets That Are the Epitome of Cool
Everyone looks like a badass in a leather jacket.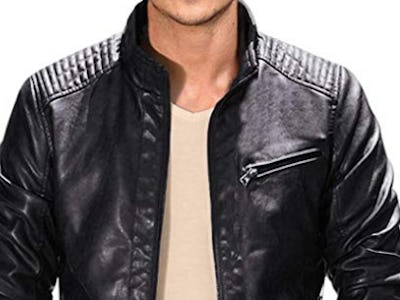 Amazon
Leather jackets have gone through a lot of identity crises over the last few decades. One a marker for those rough and tumble biker guys, the leather look has been adapted into all forms of culture. From the most hardcore punk to the most tailored business man, there is a leather coat for everyone out there. In fact, leather wearers and hopefuls are overly saturated with options. To help you whittle down and get the jacket you really want, we did the legwork for you and rounded up some of our favorite leathory finds.
This moto jacket is a classic look. It's tailored to give you a sleek silhouette, so it should fit like a glove. It has a soft lining for extra comfort and warmth—and if black isn't your thing, it comes in a really nice distressed shade of brown, too!
New to the leather game? Start with a coat that just has a touch of it as an accent. Don't let the name fool you, this Vader-inspired coat is actually really stylish, and perfect for a spring night. It also has some secret Star Wars liner flare so if you do happen to be a nerd, you're first leather coat is made for you.
Ok, so admittedly, this jacket is a little Starlord-esque, but the color is just so sick. It is made with real lambskin, so the price is a little heftier than the others. However, this baby will last a long time—it's genuinely high-quality.