Don't Know What to Wear This Spring? Try These 5 Jackets
Spring is known to be one of the most difficult seasons to dress for, get it right this year.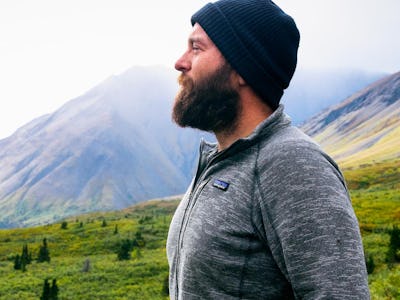 Patagonia
When the weather starts to warm up, I'm the first one to pull out my shorts and pack away my winter coat, only to step outside to an all-too-familar chill. Most of the time what I'm missing is an appropriately light, yet still insulated jacket option for braving the unpredictable spring weather patterns of temperate, sun soaked afternoons, wet evenings and somehow still frigid nights after the sun goes down.
Make the most of the spring weather by staying prepared with these 6 perfectly stylish and utilitarian lightweight jacket options, so that you're never caught shivering at this season's spring tailgates with your buddies. Keep yourself from overheating while on a spring hike with jacket options that breathe more than your usual winter outerwear. Whatever your style and whatever you plan to do with your time outdoors, take a piece of advice from your mom and remember to bring a jacket this time!
The Perfect Option for Layering or Wearing Solo
Why We Picked It: Patagonia needs no introduction. Champions of producing high-quality and long-lasting outdoor clothing, this full-zip fleece jacket option is ideal for layering or wearing on its own. Like all Patagonia products, if ethically sourced clothing is important to you, this jacket was made by sewers protected by certified fair trade.
The Jacket You Can Wear Under The Threat of Rain
Why We Picked It: Often considered a streetwear staple, the windbreaker is a timeless classic for transitional seasons. Made to be water and wind resistant with an included hood, you'll never get stuck in the rain with this must-have spring staple. Available in Brown and Olive.
The Reversible Jacket Option for the Person With Commitment Issues
Why We Picked It: Style should never be sacrificed for comfort and comfort should never be sacrificed for style. With this impressive, multi-style reversible jacket, you can wear the waxed nylon side when you need water and wind resistance or you could wear the soft, micro-striped cotton/linen blend for a slightly more elevated shirt-style jacket that goes with any possible outfit. With pockets galore, you'll never have to worry about having a place for your keys and wallet.
The Jacket For The Person Who Loves A Pop Of Color
Why We Picked It: Butterflies and plants are not the only creatures to emerge after a long winter. Complete your spring metamorphisis with this vintage-inspired aronak with a statement making pop of color. The polyester lining guarantees warmth without making you to hot and the slide-slit hand pockets make sure you always have a place to put your hands.
The Stylish, Yet Functional Jacket For Anyone Not Afraid of Prints
Why We Picked It: What sets apart the stylish from the boring is a daringness to be bold. Wear a print this season for a timeless take on the coach jacket. Printed with Herringbone stripes, this lightweight jacket is the perfect outfit accessory for the days where the chill in the air still remains. The drawstring waist allows you to get the fit you most prefer while the front snap-closure makes it easy to take on and off without fear of a snagged zipper.