Tears of the Kingdom Dungeons Will Be "Huge," Devs Confirm
"Just like traditional The Legend of Zelda games."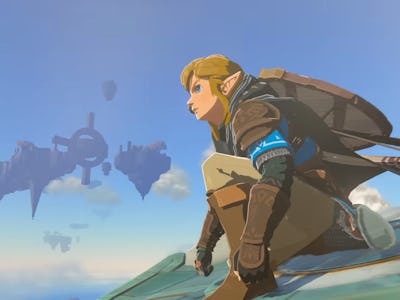 It's happening! After six long years of waiting — and everyone calling it Breath of the Wild 2 for quite a while — the next installment of the Legend of Zelda series is nearly here. Ahead of Tears of the Kingdom's May 12 launch, senior members of the development team confirmed that traditional dungeons will be back for this installment. This comes after 2017's Breath of the Wild dispensed with the series' extensive puzzle labyrinths, replacing them with more than 100 smaller mini-dungeons known as Shrines.
At the tail end of the third of a five-part interview released May 10 on Nintendo's official site, the team spilled details on intriguing variety of spaces for Link to explore on his latest adventure. Many of these dungeons will hearken back to the spirit of past games, with puzzles and enemies that are thematically evocative of their natural surroundings.
"This time, the dungeons are huge and each carry their own regional look and feel, just like traditional The Legend of Zelda games. We think they will provide a satisfying challenge for players," Satoru Takizawa said. "They were certainly a challenge to develop!"
While some of these dungeons are a throwback to the series' past, others feel like new innovations that could only be possible in an experience with Tears of the Kingdom's staggering verticality.
"For example, there is a dungeon that connects directly from Hyrule's surface. If you dive from the sky straight into the dungeon, you'll trigger an event," explained Hidemaro Fujibayashi. "We think this will be a new experience that wasn't possible in the previous game."
While some folks complained of "spoilers" when Nintendo of America shared the interview on social media, reaction to the news was broadly positive amongst players eagerly awaiting the launch of Tears of the Kingdom.
"I liked the shrines, but actual dungeons were the only thing that BotW was missing for me," wrote one Twitter user in response to Nintendo's post. "This is huge news and makes me even more excited for Friday!"
In the months leading up to Tears of the Kingdom's release, Nintendo has taken an unusually low-key approach to promoting the game. While many observers expected the Zelda sequel to get a full-blown Nintendo Direct showcase in the weeks ahead of launch, sneak peeks at the game have been consisted of a brief gameplay rundown featuring series creator Eiji Aonuma, a smattering of trailers, and media previews focusing on new mechanics like Fuse and Ultrahand. (Check out ours!) Now, we're finally starting to get a peek behind the curtain of 2023's most eagerly anticipated game.
"It's dangerous to go alone!" Check out more of Inverse's Tears of the Kingdom coverage: