Everything We Know About The Last of Us Multiplayer Game
Naughty Dog has been busy.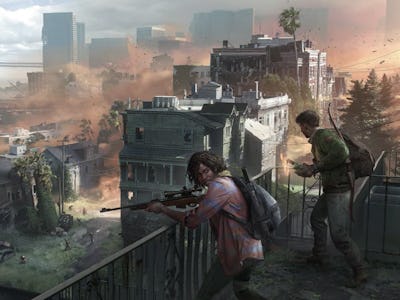 Sony
Since its initial tease in 2019, Naughty Dog's standalone The Last of Us multiplayer game has remained mysterious. Since then, very little has been revealed about the upcoming game, leading to speculation about what the project will end up being. A May 2023 Bloomberg report, along with an update from Naughty Dog itself indicates that the game still may not be ready for a while. Here's what we know about Naughty Dog's online game.
The Last of Us Multiplayer Release Window
The game doesn't even have an official name, much less a release date. In May 2023, a Bloomberg report indicated that The Last of Us multiplayer game has faced setbacks and that Naughty Dog had begun slowing down production of the project. Following this report, Naughty Dog took to Twitter to briefly explain the situation.
"We're incredibly proud of the job our studio has done thus far, but as development has continued, we've realized what is best for the game is to give it more time," an excerpt from the tweet reads.
The company confirmed it will continue to work on the project, but according to the Bloomberg report, many of its developers were actually shifted to other projects. It's possible some of these employees were shifted to the single-player experience mentioned in Naughty Dog's tweet.
We know Naughty Dog confirmed the existence of The Last of Us Multiplayer back on September 26, 2019, indicating it's been in the works for at least four years — perhaps longer.
"We are as big a fan of Factions as the rest of our community and are excited to share more when it's ready," the tweet reads.
Considering Naughty Dog was still "aggressively" hiring for this project in 2021, and the new details about the developmental setbacks, this game likely won't be ready for a while.
The Last of Us Multiplayer Trailer
There isn't a trailer for the upcoming multiplayer adventure, sadly. We were expecting to see one during the 2023 PlayStation Showcase, but it did not make an appearance. Naughty Dog did release new concept art for the game in June 2022, but that's the only thing the developer has shown thus far. The company did reveal that it will offer more details about the game as part of the series' 10th anniversary later in 2023, but it's unclear if this will come to be in light of the recent setbacks.
"With a team led by Vinit Agarwal, Joe Pettinati, and Anthony Newman, the project is shaping up to be a fresh, new experience from our studio, but one rooted in Naughty Dog's passion for delivering incredible stories, characters, and gameplay," Naughty Dog said, in reference to the new multiplayer game.
The Last of Us Multiplayer Leaks and Rumors
Based on job descriptions for the project, we know it will feature "combat encounter objectives and dynamic events," as shown on an open Systems Designer position. The tweet from Naughty Dog also made mention that "the vision of the team grew beyond an additional mode," so it's likely this will be a substantial offering, possibly larger in scope than the original Factions from the first game.
One interesting tidbit is that the upcoming game may release for PS4. As spotted by Emopulse, Naughty Dog was recently hiring for an Associate Multiplayer Quality Assurance Tester, which requires "working knowledge of PS4 and PS5 systems," accordig to the job listing. This could indicate the game is being developed for PS4 as well as PS5, likely to ensure as large of a player-base as possible. This, of course, hasn't been confirmed.
Giant Bomb journalist Jeff Grubb noted that there may have been some behind-the-scenes conflicts with regards to the game's development. "Naughty Dog wanted to do things its way, which maybe didn't bode well for Factions," Grubb said on Twitter.
In August 2021, Video Games Chronicle dug up footage from content creator Speclizer that suggested the game might have a battle royale mode, which would certainly make sense given the landscape of multiplayer offerings these days. This has yet to be confirmed.
Hermen Hulst, Head of PlayStation Studios said multiplayer games would be a focus for the company, and added "Who says that multiplayer experience cannot have great stories, right?"
With that in mind, it seems like this upcoming The Last of Us multiplayer game will be more than just a battle with your friends. It will seemingly feature a heavy emphasis on narrative that will work in tandem with the action gameplay.
This article was originally published on