Kirby's Dream Land Is on Nintendo Switch Online, So Play the Puffball's Big Debut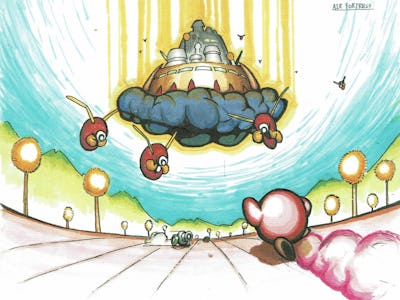 Nintendo
With a name like "Game Boy," it's easy to see why so many people thought Nintendo's first handheld gaming console was meant for children. That's not to say that the handheld console was solely focused on kids, but a lot of its gaming library was. An ad from 1992 targeting both markets encouraged kids to "punish your father when he gets home" for taking their beloved device. Nintendo was internally skeptical about the Game Boy at its release, considering its drab shades of grey and bulky size.
It needed to win over kids the same way it had for years: gameplay.
Enter a 19-year-old Masahiro Sakurai, working at Nintendo's second-party developer HAL Laboratory. Sakurai was given the task of developing a potential player's first action game, the type of game that a young player could pick up on their own. So Sakurai thought about elements that he liked and didn't like in the then-current state of gaming. Action games that took a whole life off for missing a jump, for example, struck him as too harsh of a punishment.
Beyond just correcting, Sakurai wanted to innovate. As he describes on his YouTube channel, the previous era's console, the NES, was infamous for challenging games. This was in part because of the system's limited memory, which put pressure on developers to make harder and harder games. "If a game wasn't tough as nails, a player would beat it too quickly," he says in a YouTube video. And that's all well and good, but it makes finding an entry point difficult.
Sakurai's efforts to craft a quality title for beginner gamers resulted in Kirby's Dream Land, which is available right now if you've subscribed to Nintendo Switch Online + Expansion Pack.
One perhaps unexpected source of inspiration for Kirby was Mega Man. Sakurai was interested in allowing a player to use an enemy. In Mega Man, players could use an enemy's weapon after defeating them, but that wasn't the same thing. He wanted a player to use the enemy to defeat other enemies, full stop. He decided the best way to do this would be by eating those enemies and spitting them out.
Dream Land is an experiment in these two ideas: being able to fly over jumps and eating enemies. It's such an expression of Sakurai's ideas that it's not a shock to realize that Kirby's design was initially just a dummy character that was meant to be more fully designed later, which never happened. The simple, charming design became crucial to Kirby's success, as did his silly origins on Planet Popstar.
How does Dream Land play? Well, extremely easily even all these years later. There are a few times a player might get lost wandering around the halls of Castle Lololo, but these challenges are all a matter of figuring out patterns and acting accordingly. Nearly all enemies can be defeated in the same two ways: swallowing them, or spitting a previous enemy at them.
Dream Land came out in a world where video games were not the norm for young children. Much has changed now, but perhaps it offers some hints that modern games could take. Eschewing competitiveness, the game has no high score. A million things aren't flashing on the screen at all times. There are just a few key components. But some things stay the same: It's easy to trace a line from Kirby's delightful moonwalk-esque dancing to viral Fortnite victory moves today.
Dream Land is not the best Kirby game. It doesn't even have Kirby's shape-shifting abilities yet. It might not be the best introduction to Kirby, but it is a wonderful introduction to the idea of playing a video game. Jump around, discover you can fly, and spit out enemies all day long. It remains the best-selling game in the franchise.