Deathloop's journey towards accessibility is one of redemption
Arkane's journey towards a more accessible gaming future.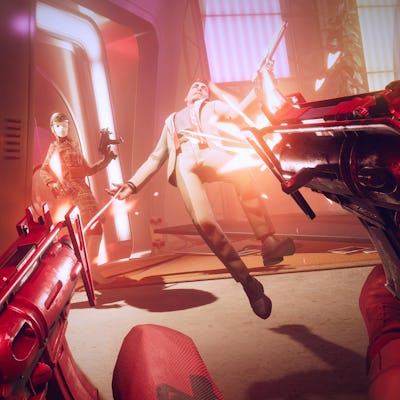 Arkane Studios
The third major update for Deathloop — 2021's "assassin caught in a time loop game" — introduces a flashy Photo Mode, but even more importantly, it finally gives the PlayStation exclusive a robust suite of much-needed accessibility options.
"Empathy was the catalyst for this update," Deathloop Lead UI/UX Designer Yoann Bazoge tells Inverse. "When we design a game, we do it for players, and we want as many players as possible to be able to enjoy gaming."
That wasn't necessarily the case at Deathloop's September 2021 launch. It received praise from numerous able-bodied reviewers for its approach to combat and problem-solving scenarios. However, disabled players criticized the title for its lack of options, inaccessible design practices, and insurmountable barriers like a limited number of lives. Without the proper tools to play, many disabled individuals had no choice but to avoid playing it altogether.
"As development progressed, we became aware that the game's accessibility features were insufficient, and it wasn't as open as it could have been," Bazoge says. "We struggled to make changes in time before release, but were well underway with planning potential accessibility additions."
Time constraints prevented the team from fulfilling their initial accessibility vision. Bazoge reveals that after processing the game's critique post-launch, developers formed "a strike team of designers, artists, and programmers" to tackle accessibility in Game Update 3.
"We went through every review, every video, and collected comments from players and those who wanted to play," Bazoge says. "We had some ideas from before launch and combined all that information to draw up the most exhaustive backlog possible and prioritized the needs according to the number of recurrences we had seen."
Developer Arkane Lyon worked with several accessibility consultants to ensure that the options and features would benefit an array of disabled individuals. These included contacts from DAGERSystem, an accessibility-focused games journalism site, and CapGame, a French website dedicated to facilitating access to video games at large.
"They were very enthusiastic about the idea of working with us, and when we presented them with the list of features we were planning to add, they couldn't believe their eyes," Bazoge says. "Adding post-launch options is already very complicated, so adding so many were already great for the player."
Through this accessibility discourse, the most notable new features include being able to choose the number of lives, one-shot kills, and the option of slowing the game speed down to either 50 or 75 percent. The update also adds new ways to navigate menus with controllers and keyboards. Rather than rely on precise movements with joysticks and a mouse, Game Update 3 lets players utilize multiple access methods when searching through menus, which Bazoge said took one developer several months to rework.
"We also had to add shortcuts that did not exist before because everything was accessible with the cursor, so we had to find a solution for these elements to remain accessible when the player could not reach them with the directional crosses," Bazoge says. "It was more than a tech challenge, it was a UX challenge, and we were pulling out our hair trying to find the best solution."
Rather than tacking on accessibility settings after launch, Bazoge notes that developers are already creating systems to ensure that options like colorblind support, caption readability, and a rescale of UI elements will all be "standard at launch moving forward."
"Improving the accessibility of a game is beneficial for all gamers."
Deathloop's initial launch was the product of an industry still struggling to meet the needs of disabled individuals.
"Some accessibility options can have a low development cost, even more so if they are thought of during the initial development of features," Bazoge said. "And it was interesting to see many people in the studio who started to use these options because they can add a different style of fun to their game sessions. Slowing down the speed of the game, for example, had a lot of success during play sessions. Improving the accessibility of a game is beneficial for all gamers."
While it's important to incorporate inclusive design practices throughout all stages of a game's development cycle, we're in an era of gaming where every game comes with a Day One patch and continues to evolve over time. Bazoge hopes that Deathloop's example can shift the narrative around accessibility. No game will ever be perfect, especially in terms of accessibility, but every studio has a responsibility to try.
"I think it is an important takeaway, not only for us but for other developers – it's ok to make the mistake, you can set things right after the fact," Bazoge said. "Sometimes it's assumed that it's not possible to improve the accessibility of a game after the fact, and we hope that we proved that it is possible."
If anything, Deathloop's accessibility fiasco indicates that not only a single studio, but an entire industry is actively willing to learn. And with the extremely personal aspect of living with a disability, implementing features that are effective and enjoyable takes a deeper understanding of the disabled experience.
"At Arkane, we have a mantra of always saying yes to the player, and accessibility is just one more way to achieve this goal," Bazoge said. "When we think about a system, a design, an interface we say 'Okay, it's a great idea, but some of the players risk being put aside, so maybe we could add an option to make it more accessible in one way or another.' Accessibility does not make us less creative — quite the contrary."
With help from the community and several accessibility consultants, Game Update 3 transformed one of 2021's most inaccessible games into a title that can be enjoyed by players across the disability spectrum. And it'll stand as a powerful reminder that a focus on accessibility is beneficial to developers and players alike.